Santander Gets New Boss, and Markets Just Shrug
(Bloomberg Opinion) -- You would struggle to know there had been a leadership shake-up at two of Europe's biggest banks from their share prices alone.
UBS Group AG's investment-banking boss, Andrea Orcel, has decamped to become CEO of Spain's Banco Santander SA with little fuss from the market. The Swiss bank's stock is down 0.4 percent, while Santander's is up 0.3 percent. If ever there was a sign that the business has changed, this is it.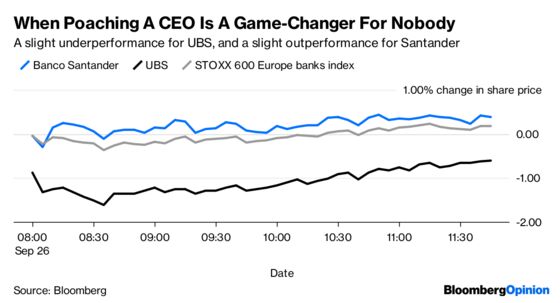 Regulators and shareholders today like to keep bank CEOs, however bold, on a leash. On Santander's side, having a bigger train set to play with – $1.7 trillion in assets, more than 200,000 employees, and operations in more than 40 countries – doesn't mean Orcel will necessarily have a free hand to sign a mega-deal or build an investment-banking empire. Cross-border mergers have yet to prove their worth, and Santander's best value proposition is its reliable double-digit earnings growth.
And on the UBS side, losing a veteran deal-maker with a fat contacts book, deep knowledge of how UBS thinks, and experience in rallying the troops doesn't have to move the needle. Santander isn't a true direct competitor, and UBS isn't like many other investment banks: It shuttered its riskiest and most capital-intensive business lines after 2011, shrank people-heavy trading desks and beefed up its technology. Orcel's exit won't change that, and UBS's edge isn't just about the human touch.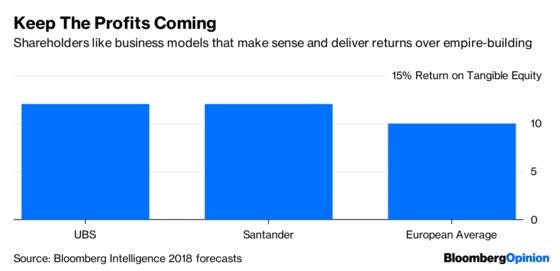 Indeed, given UBS and Santander both have above-average double-digit returns on tangible equity – they are near 12 percent in a peer group that's at around 10 percent, according to Bloomberg Intelligence – you have to wonder whether there is more to lose in changing their message to shareholders than there is to gain.
UBS even has a rather first-world problem among rivals: its stock trades at a 10 percent premium to the book value of the bank's assets at a time when many big rivals trade at a steep discount.
Any gripes about CEO Sergio Ermotti's refusal to change his views on allocating more risk to the investment bank – a conservative stance that could have led to Orcel's exit – has to be set against the stock's long-term performance. It has outperformed the sector over the past year, and over the past decade. When will Deutsche Bank say the same?
Santander may not have quite the same valuation as UBS – it trades at a 25 percent discount to book value – but it has shown a canny ability to stick to organic growth, through more lending and more fees, as well as bolt-on acquisitions like Banco Popular. Adding scale and investments in businesses like asset management and investment banking would make sense; big, transformative deals, less so.
It may have been 10 long years since the collapse of Lehman Brothers, but investors are still hungry for capital-light, asset-management-style businesses over the risky, hard-charging businesses of old. There are plenty of optically cheap but practically risky plays in Europe; there are not so many profitable and reliable dividend-paying ones. It's almost like markets want banks to behave like utilities. That's not so bad.
This column does not necessarily reflect the opinion of the editorial board or Bloomberg LP and its owners.
Lionel Laurent is a Bloomberg Opinion columnist covering finance and markets. He previously worked at Reuters and Forbes.