Samsung Refuses to Play Chicken With Capex
(Bloomberg Opinion) -- We knew that Samsung Electronics Co. was going to reduce capex this year. It told us so.
Yet the scale of the cut is a surprise. After a record 43.4 trillion won ($38 billion) outlay last year, it would have been folly for the South Korean electronics giant to keep up the pace of spending.
Yet its announcement Wednesday of 31.8 trillion won in expenditure for 2018 is 10 percent below what analysts had been expecting.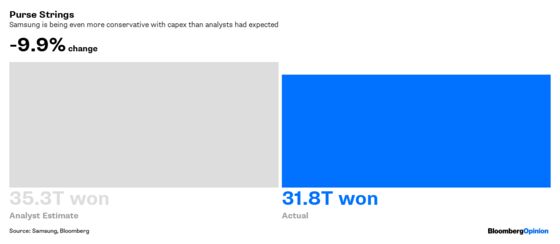 As the leader in both DRAM and NAND memory chips, Samsung could have put the pressure on rivals by spending a little more to ensure it wins the arms race. Instead, it's showing the kind fiscal discipline we rarely see in the sector.
And for good reason. Prices of both types of memory are expected to decline this quarter and into next year, according to industry researcher DRAMeXchange. Samsung echoed that outlook, though was slightly more optimistic on DRAM.
That means it's time for Samsung to take a breather and enjoy its leadership for a little while.
This column does not necessarily reflect the opinion of the editorial board or Bloomberg LP and its owners.
Tim Culpan is a Bloomberg Opinion columnist covering technology. He previously covered technology for Bloomberg News.