Royal Mail's Posties Don't Make for Good Shareholders
(Bloomberg Opinion) -- Didn't receive your mail promptly this morning? Your postie may have been distracted by Royal Mail Plc's tumbling share price.
When the postal service was controversially privatized in 2013, employees received a 12 percent stake, and still own at least 8 percent of the business. Institutional investors won't then be alone in feeling the pain from a profit warning that has sent the shares down 25 percent over two days, taking them perilously close to the price at which they were first sold to the public.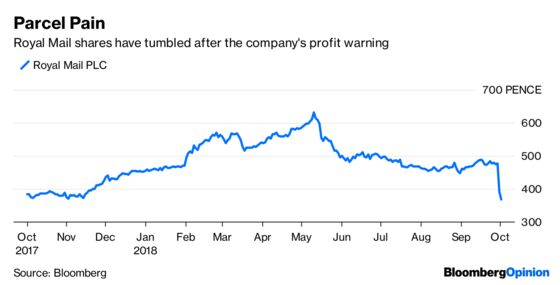 Turning Royal Mail's workers into shareholder capitalists doesn't appear to have made them any more sensitive to the expectations of capital markets.
Royal Mail's problem is the dwindling volume of traditional mail, which dropped another 7 percent in the fiscal first half. The rise of digital communication is the chief culprit, but the decline has been exacerbated by the reluctance of businesses to send so much junk mail in the wake of the General Data Protection Regulation. There's not much the posties can do about that — so cost control becomes important.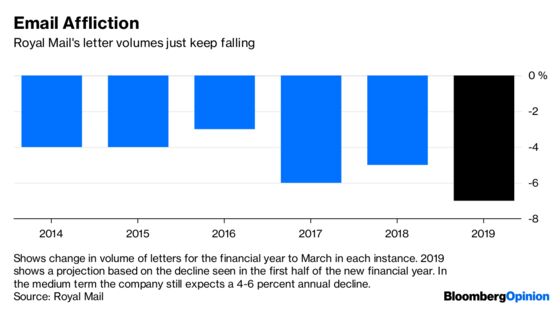 It's worrying, then, that the productivity improvements needed after this year's comprehensive deal with workers on pay and pensions haven't materialized. Employees secured a 5 percent pay increase and a one-hour reduction in the working week — but less than half of the planned 230 million pounds ($298 million) of savings will now be achieved.
Royal Mail's stumble is awkwardly timed. Last week, Britain's opposition Labour Party announced plans to require all U.K companies with more than 250 employees to hand 10 percent of the equity to their employees if it wins the next election. This, it argues would provide workers with a fairer share of the spoils of capitalism and improve worker productivity.
Ironically, the policy won't apply to Royal Mail because Corbyn wants to nationalize it instead, along with other privatized utilities. The company's financial squeeze isn't therefore only a concern for its shareholders — it's of political interest, too. An investor revolt over incoming CEO Rico Back's lucrative pay deal has compounded this. 
Royal Mail is still committed to increasing the dividend each year even though the shares, which yield about 7 percent, suggest otherwise. The company will probably only generate about 300 million pounds of free cash flow this year, according to analysts polled by Bloomberg. The dividend consumes about 230 million pounds annually.
Bernstein analyst Daniel Roeska thinks the company may have to cut much-needed investment. That would be bad from a business perspective — but it would also risk inviting more claims that that privatization isn't working.
The company is in a tough spot. Royal Mail's ailments reflect years of under-investment under public ownership — until recently it didn't even have automatic parcel-sorting machines. It's hard to see how these problems would be fixed by re-nationalizing the group, but the risk a Corbyn government might try anyway which certainly isn't helping sentiment towards the stock.
Does this all mean employee ownership is discredited, too? Not entirely. But a postie glancing at his share account this morning might reflect that a little more cost control wouldn't go amiss.
This column does not necessarily reflect the opinion of the editorial board or Bloomberg LP and its owners.
Chris Bryant is a Bloomberg Opinion columnist covering industrial companies. He previously worked for the Financial Times.