Draghi Gets What He Wanted: Some Inflation
(Bloomberg Opinion) -- It is important to remember the European Central Bank has a sole mandate: to target inflation, not growth.
So a 2.2 percent annualized gain in October euro-area consumer prices and a 1.1 percent rise in the core measure reported on Wednesday back up President Mario Draghi's belief that a "relatively vigorous pick-up" in inflation is underway.
It helps that Germany, which the Bundesbank says may experience no growth in the third quarter, is one of the main drivers: The country's rate of inflation rose to 2.4 percent in October.
There is, as Bloomberg Economics's David Powell notes, a decent body of evidence to suggest wage pressure is building in Europe's largest economy. The euro is also close to its lowest against the dollar this year, which should provide a boost to German exports and further stoke inflation.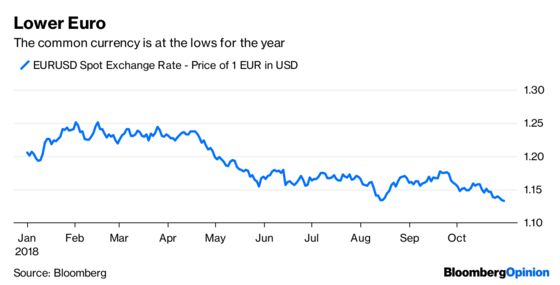 Rising prices should give Draghi some cover to bring the ECB's quantitative easing program of bond purchases to a close by the end of the year as planned.
The Dec. 13 governing council meeting will now be the focus: Several decisions will have to be taken predicated on whether policy makers take the view euro-area growth has temporarily stalled (as Draghi suggested at last week's ECB meeting) or whether the region's economy faces a more serious slowdown.
The latest quarterly economic projections will be available to policy-makers. Italy's flatlining economy and the disappointing 0.2 percent gain in euro-area third-quarter gross domestic product mean these numbers will be of particular concern.
But the ECB's economists would have to see substantial evidence of an impending recession to alter the governing council's well-choreographed plan to taper its quantitative easing program before halting net new purchases this year.
Draghi could still find other ways to soften the blow of ending QE. He has, for example, some flexibility in how he can reinvest some of the ECB's current 2.53 trillion-euro ($2.9 billion) stockpile of bonds. It's perhaps not a coincidence that, at his most recent press conference, he noted that two countries had asked the ECB to provide more liquidity for banks in the form of targeted longer-term refinancing operations.
The dip in growth has come at an awkward time for the ECB, just as it wants to bring its quantitative easing program to an end. A slight uptick in inflation gives the central bank sufficient rationale to proceed as planned and wait to see if growth recovers. Mario Draghi can breathe a sigh of relief.
This column does not necessarily reflect the opinion of the editorial board or Bloomberg LP and its owners.
Marcus Ashworth is a Bloomberg Opinion columnist covering European markets. He spent three decades in the banking industry, most recently as chief markets strategist at Haitong Securities in London.