Why Shareholders Aren't Loving Rio Tinto's Cash Machine
(Bloomberg Opinion) -- Poor little rich kids.
After a brush with death when commodity prices slumped barely three years ago, the world's miners are back in rude health. Net debt at the big five is now headed to its lowest levels since the peak of the previous mining boom in 2011, based on reported results and analyst estimates.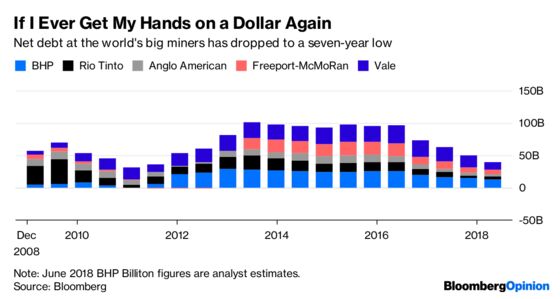 Free cash flow hasn't quite scraped those heady heights yet, but it's looking barely less robust than it was back then – and much more sustainable, too. While the measure dropped by 38 percent in Rio Tinto Group's first-half results Wednesday, the change was attributable almost entirely to the timing of a $1.2 billion tax payment on the previous year's earnings: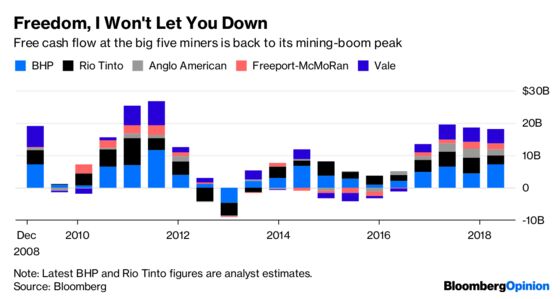 One obvious reason for the strength of cash flows is that, contrary to predictions including our own, the companies have so far resisted the temptation to fall off the capital-discipline wagon and splurge on building new mines and infrastructure. Add all the spending by the five in our sample group together and you're currently looking at less than $5 billion in capital expenditure per quarter, about what BHP Billiton Ltd., Rio Tinto and Vale SA were each spending individually at the last peak.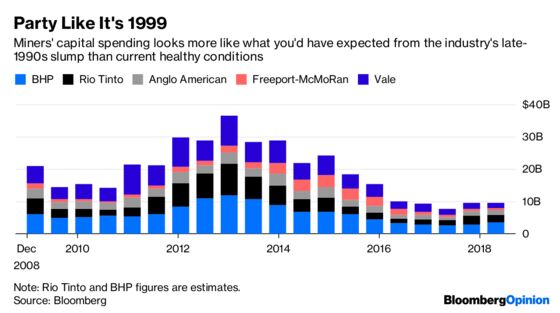 There's one group of people that hasn't caught on to this brave new world: equity investors. Rio Tinto's London-listed shares fell as much as 4.3 percent Wednesday morning, putting them on track for the worst performance in 18 months.
It's not the only one that's not feeling the love. Relative to blended forward 12-month cash flow estimates, miners are alone among 12 global industries tracked by Bloomberg in falling from fashion since 2012, with their multiple declining from 7.6 times cash flow to 6.6 times. The overall index has risen from a multiple of 7 times to 9.3 times.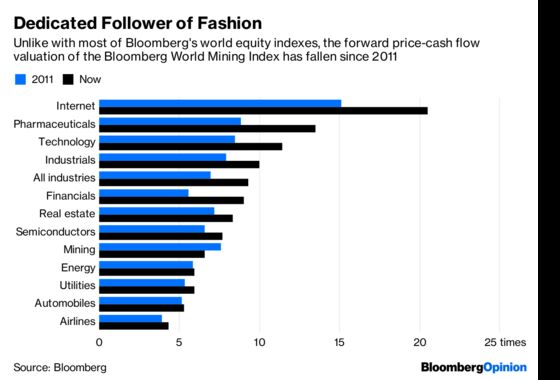 That feels a little unfair. Looked at dispassionately as places to invest, miners seem healthier than they have in years – and unprecedentedly generous to their shareholders.
On Wednesday, Rio Tinto promised to return $4 billion post-tax to investors after selling coal and aluminum assets, a figure that doesn't even include the $3.5 billion it expects to raise from disposing of its interest in the Grasberg copper and gold mine and the $3.2 billion of dividends and buybacks announced separately in first-half results. On Friday, BHP Billiton similarly vowed that the $10.5 billion in proceeds from selling its U.S. onshore petroleum assets would be kicked straight out to shareholders.
How to account for this disjuncture?
One explanation is that shareholders simply don't believe the good times will last. Unlike the commodities boom of the early 2010s, which was driven mainly by a jump in demand from China's industrialization, the current strength of metal prices is largely a result of supply-side factors. Near-term disruptions like the industrial action now roiling Andean copper pits, combined with the caution of the likes of Vale about expanding iron ore sales and the prospect of weaker supply down the road because of current capex stinginess, are the overwhelming reason why prices have been healthy. 
That absence of demand drivers probably explains the fact that miners haven't returned to their spendthrift ways, but it also reduces the odds that investors will see the companies as a compelling growth story. China consumes about half of most mined commodities globally; if it's moving, however haltingly, to rebalance its economy away from investment in capital goods and toward consumer services, the long-term prospects for miners don't look so hot.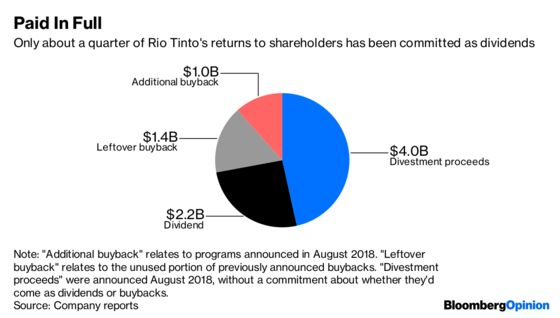 Even the companies appear to acknowledge that. For all Rio Tinto's generosity in its first-half results, it's notable that about 70 percent of the $7.2 billion in post-tax returns to shareholders isn't being promised as dividends. As a result, no commitment is being made about the direction of future earnings. The dividend payout ratio, at 50 percent of earnings, sits bang in the middle of management's 40 percent to 60 percent target, so it's equally on the fence about whether the good times are really rolling again.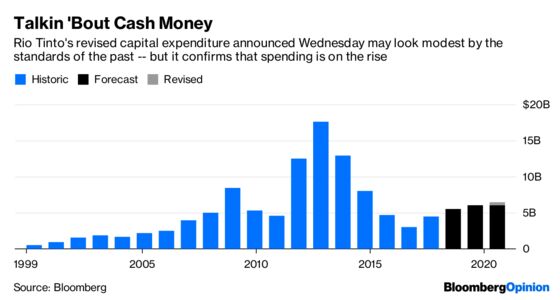 While the market hated the result, management's caution seems wise. Shareholders may prefer it when miners throw money at them rather than investment projects, but trade war winds are blowing, LME copper is coming off its worst month since 2016, and even Rio Tinto's capital spending is moving up toward more than double the 2016 level. This is no time to be getting too flash with the cash.
This column does not necessarily reflect the opinion of the editorial board or Bloomberg LP and its owners.
David Fickling is a Bloomberg Opinion columnist covering commodities, as well as industrial and consumer companies. He has been a reporter for Bloomberg News, Dow Jones, the Wall Street Journal, the Financial Times and the Guardian.