Rallye's Shoe Deal Is a Drop in Its Debt Ocean
(Bloomberg Opinion) -- Jean-Charles Naouri seems to have finally seen the light.
The retail entrepreneur's Rallye SA vehicle said on Monday that Equistone Partners Europe had made a 283 million-euro ($325.6 million) bid for its Courir shoe chain.
This is broadly good news for Rallye, whose mountain of borrowings and corporate complexity have drawn attention from short sellers and activist shareholders. So it seems Naouri has realized that he needs to do something about this.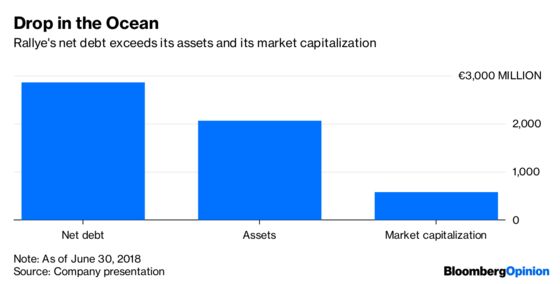 The potential deal adds to evidence that it can cope with its upcoming obligations – it has 300 million euros of bonds coming due over the next six months. Last month Rallye obtained a 500 million euro credit facility maturing in June 2020. It repaid 370 million euros of exchangeable notes after most holders exercised an option for early redemption, and covered a further 300 million of bonds that matured last week.
Though the recent moves are useful, they come at a cost. And they're not enough.
The company's assets are already dominated by its 51 percent shareholding in the Casino Guichard-Perrachon SA supermarket. Selling Courir, which Rallye owns through Groupe Go Sport, narrows the focus of its portfolio and limits its room for maneuver in the future if it needs to raise more cash – analysts at Raymond James say the sneaker store is the more-profitable unit in the group.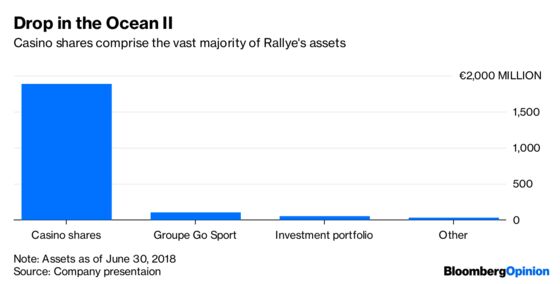 The ultimate parent is somewhat of a forced seller and may struggle to get the upper hand in negotiations even though Courir lifted revenue by 23 percent in 2017 to 330 million euros.
The 500 million loan didn't require Rallye to post Casino shares as collateral. But an unsecured credit line will be more expensive. The facility was provided by five banks, four of them French – such a big group suggests no lender was willing to commit to a large tranche. Rallye has not yet drawn on the new facility.
And, they will do little to cut Rallye's borrowings significantly. Its shares rose on Monday, although Casino was down slightly. It looks like investors have some skepticism about the whole transaction – the fact that Courir is owned by Groupe Go Sport raises a risk that not all of the sale proceeds will flow up to the parent. They also seem to be shrugging off comments from Casino last week that it will likely exceed its own 1.5 billion-euro disposal target.
They'll want to see Naouri making good on his intentions – and taking further action – before their confidence is restored.
This column does not necessarily reflect the opinion of the editorial board or Bloomberg LP and its owners.
Andrea Felsted is a Bloomberg Opinion columnist covering the consumer and retail industries. She previously worked at the Financial Times.