How to Get Ahead in Advertising? Drastic Measures
(Bloomberg Opinion) -- There was a certain irony last week when advertising doyen Martin Sorrell dubbed WPP Plc, the ads and marketing giant he spent 33 years building, as "a legacy business."
Skipping over the fact it is his own legacy, he is broadly correct. But it's not a description exclusive to WPP. It is, however, one that competitor Publicis SA has been moving faster to correct.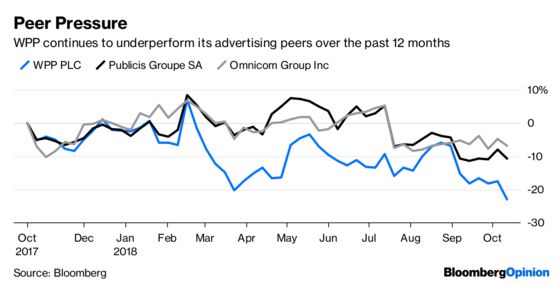 On Thursday, the Paris-based company announced plans to sell a unit that has long been a drag on earnings. The health division, which manages drug sales representatives, isn't in what most would consider to be Publicis's core advertising business and contributes a mere 250 million euros ($288 million) of annual revenue. But CEO Arthur Sadoun's promise to be "very drastic" in his review of what core assets the company will keep helped to send the shares up by as much as 8.2 percent. 
Mark Read, Sorrell's successor at WPP, is playing catch-up as he reviews the company's sprawling portfolio. He has already sold minority investments made by his predecessor and merged the operations of two of its best-known agencies. But it's still early days: his appointment was formalized less than two months ago, even if executives insist that the reshaping process had begun under Sorrell.
Read has already publicly mooted selling a stake in Kantar, WPP's data business. Its main business of measuring the impact of print and television ads looks increasingly outmoded in the digital age. Following through on this disposal would be send a strong signal of intent for investors.
But he could be more drastic. WPP's merger of Young & Rubicam with digital marketing specialist VML shows that its big name agency brands are no longer sacrosanct. That means a disposal of Ogilvy or J. Walter Thompson shouldn't be ruled out.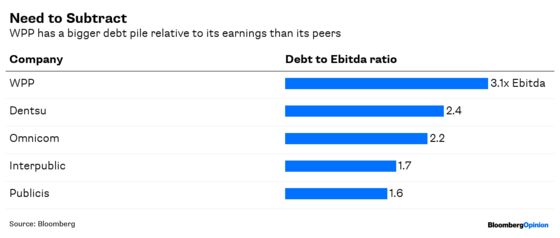 A major divestment could help WPP to pare its debt burden, the highest of its peer group, or to finance acquisitions of more digitally-focused businesses. Investors have long complained about the damage wreaked on profit by spending 400 million pounds, or thereabouts, on acquisitions annually. The company's pretax profit last year was only 2.1 billion pounds.
Read is taking steps to move away from Sorrell's shadow. His French counterpart has shown investors are receptive to drastic strides. Taking them would help him retain the top spot in global advertising.
This column does not necessarily reflect the opinion of the editorial board or Bloomberg LP and its owners.
Alex Webb is a Bloomberg Opinion columnist covering Europe's technology, media and communications industries. He previously covered Apple and other technology companies for Bloomberg News in San Francisco.