Private Equity Must Go Big, Go Niche or Go Home
(Bloomberg Opinion) -- A message for the many growth-hungry private-equity firms focused on China: If you want to raise money, you'd better be either big or specialized.
A middle-of-the-pack China venture or PE firm making a pitch on consumer, healthcare or tech business won't cut it with investors now. Sagging global stocks, the U.S.-China trade war and Beijing's clampdown on capital flight have curbed fundraising both in China and from big pension funds — some of which are going it alone and competing for deals.
Look at what's happened in the once hot area of yuan-denominated funds, where firms could raise money from rich Chinese entrepreneurs and get a listing on the mainland. Just $10 billion-worth of so-called RMB funds were raised for China investment so far this year, versus $31 billion in other currencies, according to Preqin, a data provider — a reversal from years of dominance by yuan funding. By the third quarter of this year, China-focused pools had raised $1.9 billion in yuan-denominated funds, a sliver of the $19.3 billion accrued in dollars, according to Asia Private Equity Review.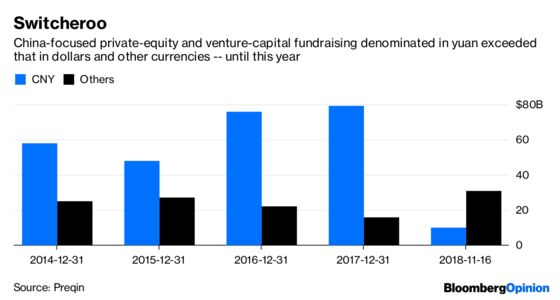 Blame Beijing's deleveraging campaign and, latterly, the trade war. Many high-net-worth owners of listed companies are now strapped for cash and are no longer reliable contributors to fundraising by Chinese or foreign private-equity firms. The crackdown on wealth-management products, especially the removal of guaranteed returns, worsened the drought.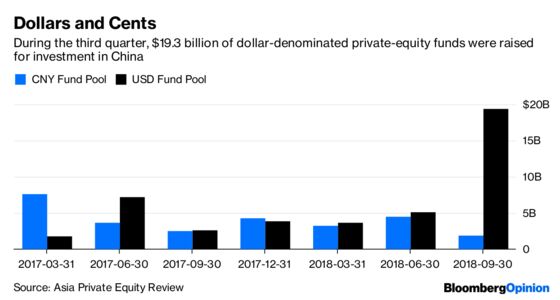 Anyone looking to raise yuan in this environment must have a niche, in the view of pretty much every panelist at last week's 31st Annual AVCJ Private Equity & Venture Forum. Tech, they agreed, has become frothy, but there are still riches to be found in less buzzy areas: so-called "deep tech" (where companies undertake original scientific research) rather than artificial intelligence, or logistics instead of e-commerce. Indeed, the biggest yuan-denominated vehicle this year was GLP China's logistics fund, valued at $1.6 billion, according to Asia Private Equity Review.
Niche plays are also crucial in healthcare, as two-year-old Long Hill Capital found. An early-round investor in LinkDoc, a startup providing data for China's oncology hospitals, Long Hill raised both a $265 million fund and a 400 million-yuan ($57.6 million) pool in July. Its pitch was investing only in healthcare and consumer startups focused on China's aging population.
Even successful niches can backfire: For some, Chinese backing has come to feel like a liability. Funds focused on U.S. biotech startups, for instance, are starting to wonder if they'll face national security reviews, according to Cedric Lam, a partner at Eversheds Sutherland. In recent years such startups, shunned by big pharma, have come to rely on China. Lam said he's seeing some private-equity funds that raised capital there reorienting investments toward Israel or even bypassing mainland funds.
The alternative to a niche is heft. Of the $19.3 billion in dollar-denominated funds raised in the third quarter for China investment, four (dominated by Hillhouse Capital Group) accounted for $16.9 billion, according to Asia Private Equity Review data. 
Pension funds and other institutions increasingly are playing it safe by pouring cash into names they know. Some, like Canada Pension Plan Investment Board, are cutting out the intermediary and investing directly in assets — that group bought into a $10 billion funding by Jack Ma's Ant Financial.
Private equity's days of easy money in Asia are over.
This column does not necessarily reflect the opinion of the editorial board or Bloomberg LP and its owners.
Nisha Gopalan is a Bloomberg Opinion columnist covering deals and banking. She previously worked for the Wall Street Journal and Dow Jones as an editor and a reporter.