Populist Threat Will Spare Italy the Tough Medicine
(Bloomberg Opinion) -- Europe's effort to forge a monetary union has always been as much a political project as an economic enterprise. Greece has already shown that the need to keep the crusade on track means fiscal transgressors get off lightly; so Italy, which is a much bigger deal in the bloc both politically and economically, can expect a similarly muted response to its deficit defiance.
Italian Finance Minister Giovanni Tria said on Monday that his government is sticking to its 2.4 percent budget deficit target for next year, fully cognizant that it breaks the European Union's rules. "The recent rise in government bond yields will be reabsorbed as the investors learn about all the details," he said in a letter to the European Commission.
The Commission, for its part, had expressed "serious concern" about the spending plans in a letter last week. But with European elections looming in May, Italy's partners are fully aware that there's little they can do in practice to force their errant neighbor to curb its newfound enthusiasm for fiscal stimulus.
And bond investors remain unimpressed about the prospect of Italy either rediscovering economic discipline by itself or being forced to recant.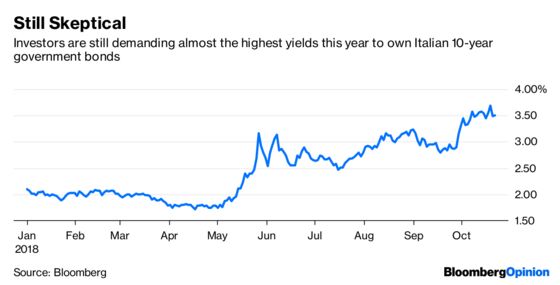 Moody's Investors Service effectively delivered a template on Friday for how the country will be treated — chastised, but not castigated. The credit-rating company downgraded the sovereign rating by one notch to Baa3, the lowest level on its investment-grade scale. As well as stopping short of cutting the nation's assessment to junk, Moody's said its outlook was now "stable."
If there's one certainty about the outlook for Italy, it's that its creditworthiness is anything but stable. All three of the risks that Moody's highlighted as potentially triggering a further downgrade — weaker growth leading to more borrowing, investors demanding higher yields, and escalating tensions with the Commission — are likely to transpire, and sooner rather than later.
The growth acceleration Italy's government is relying on to fund its increased spending is viewed as optimistic at best, fantasy at worst. Its forecasts for economic expansions of 1.5 percent next year and 1.6 percent in 2020 would be about equal to the best the nation has achieved this decade, and are far in excess of what economists reckon the economy is capable of delivering.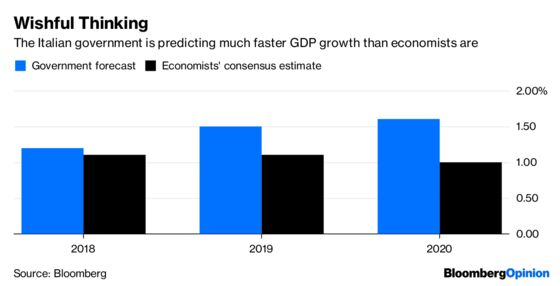 But the Commission must walk a fine line between criticizing the government and not scaring bondholders, defending the economic strictures of euro membership while not leaving itself open to charges of hypocrisy, and pushing back against Italy allowing its deficit to balloon without getting accused of encroaching on the country's sovereignty.
The original Stability and Growth Pact, laid down in the Maastricht Treaty more than a quarter of a century ago, set targets for inflation, exchange-rate stability, long-term borrowing costs, budget deficits and debt ratios. But after France and Germany exceeded the deficit limits in 2003 without punishment, the menace of sanctioning a euro member for economic misbehavior was shown to be an empty threat.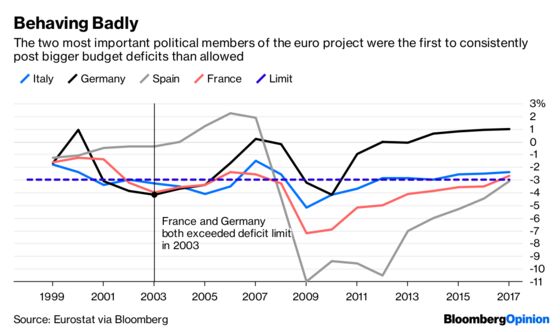 The so-called doom loop between European banks and the sovereign debt they've loaded onto their balance sheets means the fear of contagion looms large in the EU's thinking. Italian banks own 375 billion euros ($430 billion) of the nation's bonds. That's 87 percent of their sovereign holdings, and about 11.5 percent of their total assets, according to figures compiled by Bloomberg Intelligence.
But the rest of Europe is in a similar quandary. And there's already evidence of contagion risk becoming a reality.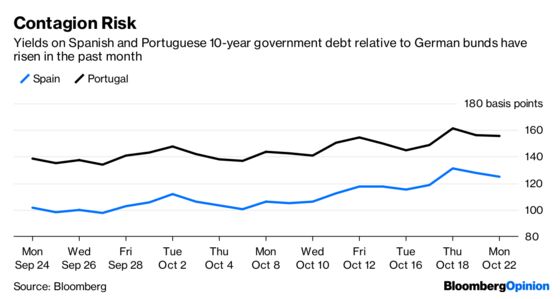 "The mutual dependence is problematic," European Central Bank Governing Council Member Ewald Nowotny said in an interview published by Austrian newspaper Kurier on Friday. With the ECB still on track to halt its bond-buying program by the end of the year, policy makers will be wary of anything that spooks owners of peripheral euro zone government debt, mindful that the region's banks are vulnerable to higher yields and lower prices.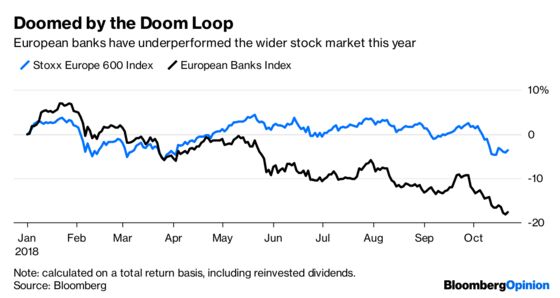 But it's the European elections next year that give Italy a free pass to pursue expansionist economic policies without fear of retribution. League leader and Deputy Prime Minister Matteo Salvini saw support for his party surge in regional voting on Sunday, capturing 11.1 percent of the vote in the Bolzano area near the Austrian border compared with 2.5 percent in 2013. An Ipsos poll published in Corriere della Sera on Sunday showed 59 percent of Italians view the budget plan as positive.
So the EU's technocrats will be rightly reluctant to fan the populist flames that ushered in the current administration in the first place — especially after Salvini teamed up with French nationalist Marine Le Pen in Rome earlier this month to target the bloc's Parliamentary vote in 2019 as an opportunity to amend the EU's budget rules and end what he called "the politics of austerity."
Though months of back and forth loom between the Commission and Italy's leaders, as my Bloomberg Opinion colleague Marcus Ashworth has pointed out, officials in Brussels are unlikely to insist the nation swallow the tough medicine that would bring it in line with their rules.
So, to quote Shakespeare, criticism of the country will prove to be sound and fury signifying nothing. But, to quote the Bard again, in Italy's case discretion on the part of the Commission will prove to be the better part of valor.
This column does not necessarily reflect the opinion of the editorial board or Bloomberg LP and its owners.
Mark Gilbert is a Bloomberg Opinion columnist covering asset management. He previously was the London bureau chief for Bloomberg News. He is also the author of "Complicit: How Greed and Collusion Made the Credit Crisis Unstoppable."