Pimco Extracts Its Pound of Flesh From Italy
The budget battle between Rome's populist government and the European Union is taking a heavy toll, not just on sovereign debt but also the biggest of Italian institutions. Investor sentiment has improved this week on hopes that the Five Star and League parties are preparing to compromise marginally on their spending plans. But Pimco is being amply rewarded for its faith.
UniCredit is keen to show that it can access the market in all kinds of weather, but it's questionable whether it would have got this away last week before the conciliatory budget noises from Rome. Even after that, the whopping 7.83 percent coupon for U.S. dollar five-year debt is well above its existing senior non-preferred funding levels. Plus it has had to issue this new type of senior debt at a similar level of yield to its existing subordinated debt – effectively meaning there's no reduction in cost for the bank for the supposed better quality asset.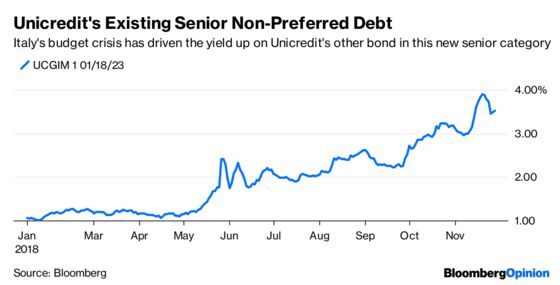 The coupon equates to nearly five percent in euros, substantially above its comparable four-year bond in euros, which trades at about 3.5 percent. That deal was issued in January with a yield of about 1 percent yield; clear evidence of how much Italy's crisis is pushing up UniCredit's funding costs.
The bank does at least get to improve its capital ratio as this deal is eligible for the EU's toughened-up regulations on capital capacity. As this note is "non-preferred" it can be easier to be bailed-in in the event of the bank failing, after equity and lower-ranked subordinated capital has been exhausted, meaning the investor takes a loss. So Pimco does carry more risk compared to previous types of the bank's senior debt, which ranked alongside its operating liabilities.
It's hard not to have some sympathy for UniCredit as it battles the twin demands of having to meet increased regulatory requirements just as its underlying funding costs are propelled higher by investor flight from the country. It has done well to get this away so late in its 2018 funding plan, which was running behind schedule. These are wholly obvious consequences that Italy's government and the European Central Bank should take careful note of. Still, at least big investors remain willing to pay a price for some of the country's more secure assets. Even if it's at bargain levels.
The ECB needs to weigh up whether its regulatory push will just make things even hairier for Italy's banks. UniCredit was understandably desperate to get this away, and has some breathing space now. But, make no mistake, this was painful.
This column does not necessarily reflect the opinion of the editorial board or Bloomberg LP and its owners.
Marcus Ashworth is a Bloomberg Opinion columnist covering European markets. He spent three decades in the banking industry, most recently as chief markets strategist at Haitong Securities in London.