Philip Green's Problems Arrive at a Bad Time
(Bloomberg Opinion) -- Whatever the details of Philip Green's alleged bad behavior turn out to be, and whether indeed they are true, one thing is certain. None of this is good for his shops.
Green was named in parliament last week as the British businessman alleged to have used legal agreements and payments to hide accusations of sexual harassment, racist abuse and bullying — allegations he has categorically and wholly denied.
The furor could not have come at a worse time. Green's businesses, including Topshop and other British fashion brands such as Dorothy Perkins, Wallis, Evans and Miss Selfridge, are battling the broader malaise on the high street. Topshop, once the jewel in Green's Arcadia Group Plc crown, is under pressure from nimbler online rivals such Asos Plc and Boohoo Group Plc.
Primark, the store chain founded by Irish businessman Arthur Ryan, a longstanding friend of Green's, is making life difficult for everyone in the U.K. rag trade. The cheap chic sold by Associated British Foods Plc's retail arm is reshaping the business, not just for value clothing but for mid-market operators too such as Topshop and Inditex's Zara.
A combination of a warm autumn and Brexit-induced nervousness among shoppers has made conditions on the U.K. high street the most challenging for years, with several retailers issuing profit warnings. Topshop, in which U.S. private equity group Leonard Green & Partners LP has a 25 percent stake, slumped to a post-tax loss of 10.9 million pounds ($14 million) in the year to August 2017 from a 59.4 million profit in the year earlier. This came after a 6 percent drop in sales, and a 12.6 million pound charge for asset writedowns and onerous lease provisions.
In response to the allegations aired in parliament, some Twitter users late last week called for shoppers to boycott the chain.
Research from YouGov BrandIndex, which tracks the public perception of brands — carried out before last week's claims — found that young customers at Topshop and its stablemate Topman's were more than twice as likely to want a brand to stand up for gender issues than a nationally representative sample. They're also more likely to stop shopping at a brand if it's associated with something with which they disagree.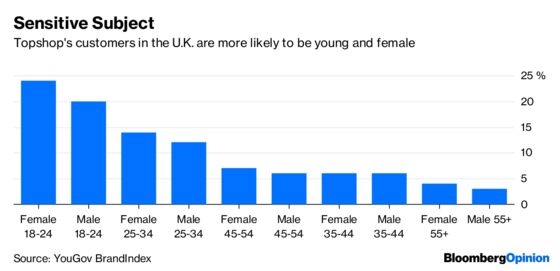 But Topshop isn't Green's only problem. His other stores such as Miss Selfridge and Dorothy Perkins are struggling to stay relevant with today's shoppers. Sales and underlying profit from continuous operations at Green's family holding company, Taveta Investments, also fell in the year to August 2017.
Green did have the foresight almost a decade ago to see which way the British high street was heading. He was one of the first merchants to close stores as leases expired. But with Arcadia still trading from 2,800 outlets, he continues to be heavily exposed to physical stores.
He also sold his brands' products through BHS, which went bust in 2016, a year after Green sold it for one pound. Meanwhile, he has 350 concessions across Debenhams Plc's 166 department stores. Debenhams will close up to 50 locations over the next three to five years.
Green denied earlier this year that he was looking to sell Arcadia. But the latest storm could put some kind of exit back on the agenda. Topshop is still the most attractive asset, but it isn't likely to be worth anything near its 2 billion pounds ($2.6 billion) value when Leonard Green bought its stake in 2012. Any sale would also have to deal with the chain's pension obligations.
Green had a hard enough time defending his actions over BHS; the last thing he needs is another British controversy.
This column does not necessarily reflect the opinion of the editorial board or Bloomberg LP and its owners.
Andrea Felsted is a Bloomberg Opinion columnist covering the consumer and retail industries. She previously worked at the Financial Times.