Big Pharma's Price Freezes Aren't Fooling Anybody
(Bloomberg Opinion) -- Earnings are now in at most of the biggest pharmaceutical firms, and one thing is clear from their results: One of President Donald Trump's most visible efforts to strong-arm them on prices hasn't caused much pain.
Pfizer Inc. was called out by Trump in a July tweet over mid-year price increases the drug giant pushed through on a number of its medicines, and the public shaming prompted the company to roll back the increases. That was followed by appeasement from other big pharma firms including Merck & Co., Novartis AG and Roche Holding AG. 
It's been obvious from the start that these moves were cosmetic. Roche, for example, promised to forego further price increases this year only after it had already enacted hikes on some of its biggest sellers. But the earnings reports are further proof that efforts intended to mollify the president didn't involve much if any sacrifice.  
Novartis, Merck, and Amgen all beat analysts' third-quarter earnings expectations and raised either their sales or EPS guidance for the full year (Amgen raised both). Roche doesn't report EPS on a quarterly basis, but beat sales expectations on the back of strong U.S. results. Pfizer's earnings were messier, but its price rollback wasn't to blame for its woes. In fact, the various pricing actions don't appear to have had any impact that couldn't be overcome by nudging a few levers elsewhere: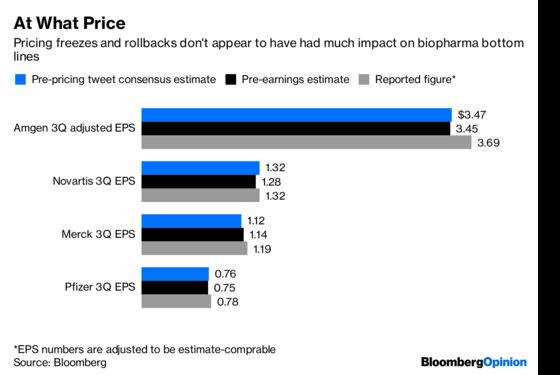 The fourth quarter will likely be similar. And Pfizer's outgoing CEO Ian Read said on Tuesday's earnings call that the end of the year is likely to bring a return to a pricing policy of "business as normal" for the company, and it probably won't be alone.  
The issue has never really been any individual price hike, but initial prices that are out of whack with the rest of the world and the compounded effects of many years of increases across many drugs.
In spite of its initial celebration, the Trump administration appears to be wise to the fact that the industry's efforts at reform were pretty lazy. Pharma was blindsided last week by the plan to index certain expensive drugs paid for by Medicare to much lower international prices. It went well beyond what it expected from a Republican administration, and serves as a clear sign that the pricing issue won't go away easily. 
Pricing reform that actually has an impact on patients and health-care spending is going to come at a cost to pharma. But the industry has plenty of room to moderate while still remaining wildly profitable. 
As long as pharma's self-discipline is so soft, policy makers are going to remain focused on this highly populist issue. The cuts that eventually result won't be cosmetic and they won't be voluntary. 
This column does not necessarily reflect the opinion of the editorial board or Bloomberg LP and its owners.
Max Nisen is a Bloomberg Opinion columnist covering biotech, pharma and health care. He previously wrote about management and corporate strategy for Quartz and Business Insider.