Pfizer's Lingering Hospira Woes Are Troubling
(Bloomberg Opinion) -- As it approaches a CEO transition, Pfizer Inc.'s management has plenty of issues on its plate. But what should really worry investors is that it can't seem to put an old one to rest.
The pharmaceutical giant announced third-quarter earnings that didn't reassure investors. Pfizer missed analysts' sales estimates and lowered the midpoint of its full-year revenue guidance. Foreign exchange is partly to blame, but so are drug shortages from its Hospira injectable drugs business — which suggests that drug-supply headaches that should have been resolved are lingering in a serious way. 
Operational problems severe enough to impact the firm's full-year top line aren't a good look for a company as large and important as Pfizer. Investors clearly like something that the company is doing: The firm's shares are up more than 17 percent for the year even after Tuesday's slip-up. But when Hospira's situation is added to other existing concerns, it's worth questioning whether Pfizer's outperformance is sustainable.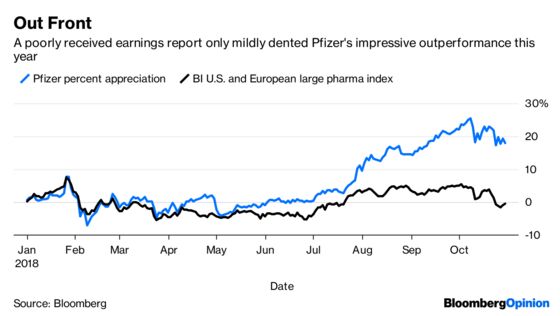 Hospira was working through issues when Pfizer acquired it in 2015, including a past history of warnings from the U.S. Food and Drug Administration and facilities that weren't up to snuff. Whether those problems were particularly intractable or post-acquisition cost cuts made things worse, Pfizer doesn't seem to have improved matters. There have been a string of recalls and other problems at Hospira that have led to drug shortages, which have had a negative impact on both Pfizer's results and patients.
Hospira was supposed to be a stable cash generator for Pfizer that added enough heft to its older-drug business to make a spinoff viable. Now it's turned into a sales drag that will require investment to fix, and Pfizer might have a harder time separating its businesses even if it still wanted to. The firm said 2019 should bring a "significant" improvement in manufacturing. But that improvement is already overdue, and Hospira will be an impediment for longer than investors expected. 
Elsewhere, the firm's innovative drug business generates a substantially larger portion of revenue, and it grew pretty well in the third quarter. But there's reason for concern here, too. Breast-cancer drug Ibrance, a blockbuster that Pfizer depends on heavily for growth, missed sales expectations in the quarter. If that's a blip, it's fine, but competitors have entered the market and a more sustained slowdown would be concerning. In the longer term, generic competition looms for blockbuster pain drug Lyrica in the U.S. and other medicines, and has already arrived for other drugs. 
The firm's pipeline, which it has been pruning, isn't exactly a sure bet to provide long-term growth. Despite Pfizer's bullishness on its research and development projects, many of its late-stage and recently approved medicines have major risks attached or are wading into seriously competitive markets.
Despite its claim, reiterated Tuesday, that it doesn't see the need for major M&A, Pfizer is always a good bet to go out and attempt to buy its way out of its problems. But the Hospira acquisition and the mixed performance of Pfizer's $14 billion purchase of Medivation Inc. make it clear that the firm is perfectly capable of buying its way into problems as well. Also, one of the things expected to help fund a deal, the disposal of the firm's consumer unit, has taken much longer than expected. Given that a buyer hasn't emerged after a year of evaluating strategic alternatives, a less lucrative IPO may be the only option.
Pfizer's incoming CEO Albert Bourla — who will take over from current Chief Executive Ian Read at the beginning of the year — may surprise with bold action, in spite of being a consummate company insider. The Hospira situation may finally get resolved. And the firm's pipeline may surprise. But that's an uncomfortable number of maybes for a firm with a stock performing like Pfizer's. 
This column does not necessarily reflect the opinion of the editorial board or Bloomberg LP and its owners.
Max Nisen is a Bloomberg Opinion columnist covering biotech, pharma and health care. He previously wrote about management and corporate strategy for Quartz and Business Insider.