Pfizer's Next CEO May Have to Pull Off Some Bold Deals
(Bloomberg Opinion) -- When Pfizer Inc. CEO Ian Read steps aside in January, the legacy he'll leave behind won't be the one he intended. 
Read, whose move was announced early Monday, attempted the two biggest pharma deals in history when he went after AstraZeneca PLC and Allergan PLC, only to be stymied by target resistance and regulators. He'll just have to settle for having navigated a difficult series of patent expirations — and a 162 percent increase in the stock price. 
But with a another wave of generic competition set to hit, successor Albert Bourla will be hard-pressed to build on Read's share-price success without bolder action.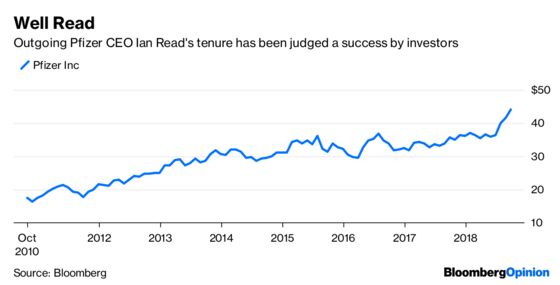 The deals Read did manage weren't notably exciting or successful. The acquisition of Hospira Inc. in 2015 was seen as a prelude to a business split that never actually happened, and the $14 billion purchase of Medivation Inc. in 2016 looks very much like an overpay.  
Recently, Read has said that the company doesn't need new acquisitions and that its own internal R&D work would power growth. Bourla's biggest choice will be between following Read's strategy or bringing Pfizer back to the dealmaking table.  
Pfizer does have a broad swath of emerging medicines. But too many of them are in highly competitive disease areas, often with well-established competition. And those new drugs have quite a load to bear: Sales of Pfizer's pain drug Lyrica alone are expected to decline by more than $3 billion through 2021.
On top of that, competition is heating up for many of Pfizer's established blockbusters, most notably Xejanz and Ibrance, which is a further risk to sales growth that's already expected to be anemic.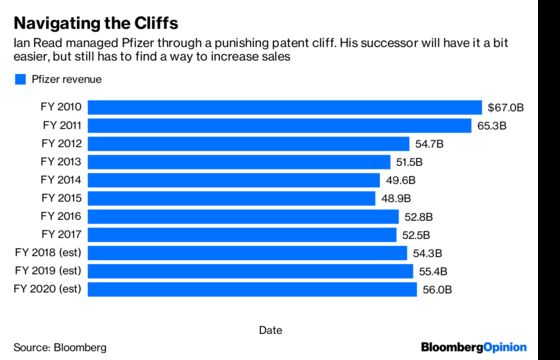 Unless several drugs in the pipeline substantially outperform expectations, Pfizer's growth is likely to lag behind rivals and it will struggle to justify continued share-price strength.
Read may be content to rely on the assets Pfizer already has. But Bourla should put his own stamp on the company and bring in some backup. 
This column does not necessarily reflect the opinion of the editorial board or Bloomberg LP and its owners.
Max Nisen is a Bloomberg Opinion columnist covering biotech, pharma and health care. He previously wrote about management and corporate strategy for Quartz and Business Insider.