PayPal Fills a Square-Shaped Hole in Europe
(Bloomberg Opinion) -- For Europe at least, PayPal Holdings Inc. has filled a Square-sized gap in its armor.
In-store payments have long been the weak suit of the San Jose, California-based company, and there has been repeated speculation that it would acquire Square Inc., a maker of point-of-sale software and devices used by merchants across the U.S. PayPal's competing offering has made little headway against it.
Instead, PayPal has opted to pay $2.2 billion for Square's smaller Swedish competitor, iZettle AB. It's far cheaper than buying Square, a deal Bloomberg Intelligence suggested in March would cost more than 10 times that amount. With iZettle, Paypal will instead get ahead in markets where Square has as yet little presence.
PayPal says it serves 19 million merchants globally, primarily in online sales. While it doesn't break out where those clients are based geographically, it gets about 46 percent of revenue from outside the U.S.
Buying iZettle should help expand revenue from existing clients' physical stores, and allow PayPal to offer customers of the Swedish company lucrative additional accounting and financing services. But given that PayPal already has its own product, it looks be a defensive move and admission that it's not gaining traction fast enough alone.
It's a godsend for the Swedish company, which is only active in Europe, Brazil and Mexico and had been planning to go public.
According to Dagens Industri, iZettle was seeking a valuation in excess of 10 billion Swedish kronor ($1.1 billion). That looked punchy for an unprofitable business with revenue of just 776 million kronor -– a multiple of some 13 times net revenue. Shares of Square, which is at least profitable, trade at less than 10 times net revenue.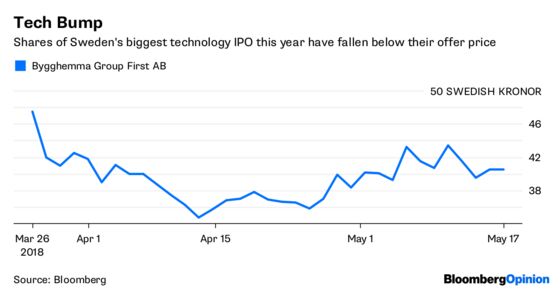 Given that shares of online retailer Bygghemma Group First AB, Sweden's biggest technology IPO this year, have fallen 15 percent since they began trading at the end of March, iZettle had good reason to be nervous.
So when PayPal agreed to pay almost twice the valuation it was expecting from the IPO, there must have been some deep sighs of relief in Stockholm. PayPal is paying handsomely.
But with a $6.8 billion windfall from the sale of loans and receivables to Synchrony Finanical coming later this year, a market capitalization exceeding $90 billion and net debt 10 percent below annual Ebitda, it can afford it. And it still could make that bid for Square.