Pandora's Charms Fall Out of Fashion
(Bloomberg Opinion) -- Another quarter, another profit warning from Pandora AS. The Danish maker of affordable bling jewelry cut its forecast of full-year revenue growth on Tuesday and abandoned its long-term sales target. Far from golden.
Investors have, unfortunately, become used to the steady stream of bad news from the company. And Tuesday's warning was accompanied by an overhaul of the business. That indicates that the strong sales expansion Pandora enjoyed a few years ago won't return any time soon.
In an effort to fix its woes, the company will cut the pace of new store openings. It will still debut 250 outlets this year, but its previous plan for 1,000 net new shops between 2018 and 2022 will be curtailed. Closures will step up too, as the jeweler focuses on developing its online business. Pandora will also rein in its strategy of buying in stores operated by franchisees, a practice that previously boosted revenue.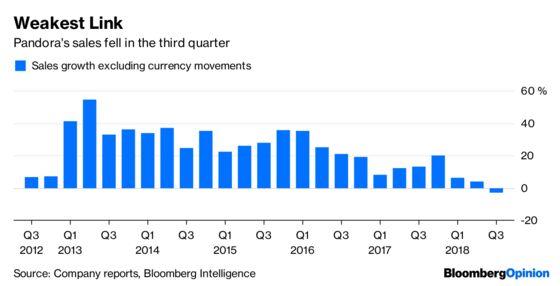 These moves, while sensible, will mean slower growth. That helps explain the decision to ditch a target of 7-10 percent annual sales expansion excluding currency movements. Pandora will be a fundamentally different retailer than in the past. The new approach will depend instead on increasing sales from stores open for at least a year.
Pandora may be able to do this to some extent by improving its marketing and through initiatives such as personalized jewelry. But the deeper problem is that Pandora's charms, the tiny emblems attached to bracelets that account for more than half of its sales, have fallen out of fashion.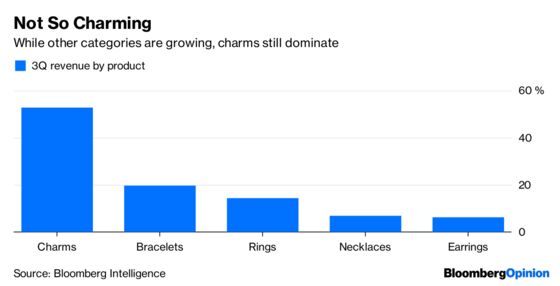 It will take time to build up enough sales of earrings and necklaces to take up the slack – if that will ever replace the now waning charms craze. So growth will be hard to come by.
Cost cuts will help. The company will announce an increased savings target in February. It might also want to reduce or jettison its share buyback program to make sure it has enough financial power to reshape the business.
The shares have lost almost half their value this year, trading at about seven times expected earnings. That's about a third of the rating enjoyed by Bloomberg Intelligence's index of top luxury companies. Finding a chief executive officer would help after the August departure of Anders Colding Friis. But it's hard to see what any new leader might do to challenge the fickle nature of fashion.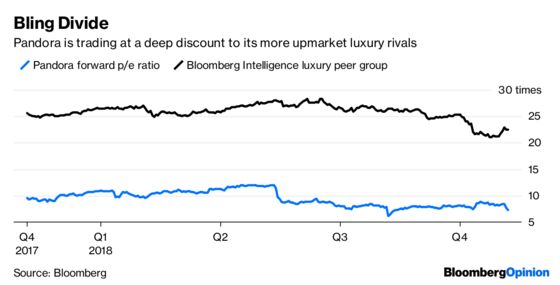 The one wild card is a potential takeover amid reports of interest in the company. Even with a hefty bid premium, investors wouldn't get anywhere near the shares' 1,000 kroner ($153) or so peak in 2016. Still, with little prospect of immediate recovery, that might be the most charming option right now.
This column does not necessarily reflect the opinion of the editorial board or Bloomberg LP and its owners.
Andrea Felsted is a Bloomberg Opinion columnist covering the consumer and retail industries. She previously worked at the Financial Times.