It's Too Soon to Say P&G Turned the Tide
(Bloomberg Opinion) -- Procter & Gamble Co.'s 2019 outlook is starting to look more attainable.
The company behind brands such as Pampers diapers and Dawn dish soap reported Friday that organic sales — a figure that excludes M&A and currency effects — rose a robust 4 percent in the first quarter over a year earlier. That made for P&G's strongest growth on this measure in five years.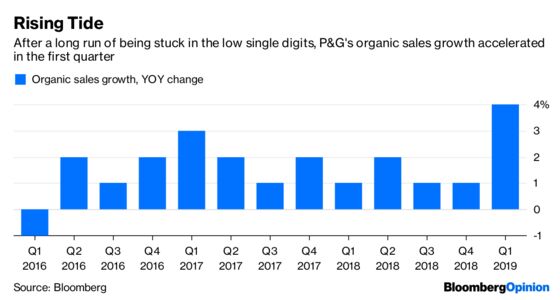 This unexpected strength comes on the heels of a difficult year for the consumer-goods behemoth, in which it clashed with an activist investor and struggled to deliver strong sales. Last year, P&G had forecast it would achieve organic sales growth of 2 percent to 3 percent, only to come up short in the end with a scant 1 percent increase. So when it issued guidance calling for 2 percent to 3 percent growth in the year ahead, I was skeptical that it could be achieved.
These results soothe some, but not all, of my doubts.
Organic sales in the first quarter increased in all of P&G's major divisions except for the one that includes its baby-care business. But even that challenged division showed signs of promise: The sales decline reflected a prudent decision to slash prices on its Luvs diaper line in the U.S., which lately has struggled as private-label diapers have siphoned off budget-conscious shoppers. Making Luvs look like a value play should help P&G bring some parents back to the brand over the long haul. 
It's also encouraging that sales in the U.S. segment of P&G's grooming business were up 10 percent over a year earlier, according to figures executives cited on a conference call. P&G  has been working for a long time now to offer more competitive pricing on razors and build an e-commerce-based subscription option to combat the likes of Harry's and Dollar Shave Club, and this growth is a glimmer of hope that such efforts are getting traction.
In fact, the U.S. market was strong overall for P&G, with executives saying sales here grew 4 percent over a year earlier. While, of course, the company needs to flex its muscle in overseas markets to secure its long-term future, the fact remains that its home market is its most important one.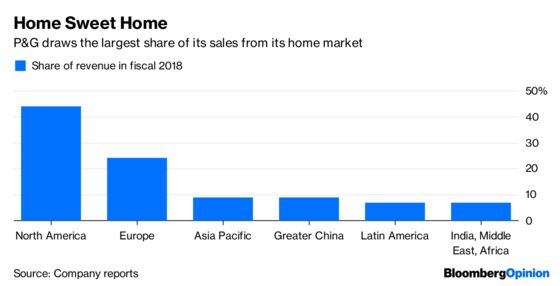 P&G deserves credit for its progress, but caution is still warranted. The company earlier announced that, as it shoulders rising commodity costs, it's raising prices on items in its Pampers, Bounty, Charmin and Puffs brands. On Friday, executives said they have notified retailers that price hikes are coming on additional items in its home-care, oral-care and personal-care divisions. 
We have yet to see the impact of those moves; the Bounty and Charmin price bumps kick in later this month, for example, and the Puffs change is to come in February. Executives cautioned on today's conference call that these kinds of moves will likely contribute to volatility in P&G's results. After all, if some of P&G's competitors stand pat with their prices, P&G could lose customers.
And don't forget that tariffs on billions worth of Chinese goods are set to soar to 25 percent on Jan. 1, meaning U.S. consumers won't just be facing higher prices on a narrow band of household products, but potentially on a wide swath of other goods, too. That could shape their spending patterns in ways we can't fully understand yet.
Plus, as I wrote earlier this month, while P&G has hardly been at a standstill in its transformation efforts in the last year, it still seems like much the same company it was before last year's drama-filled proxy fight. 
P&G had a solid quarter. But it still has ample work ahead to achieve a comeback, and it must execute that work in a difficult environment.
This column does not necessarily reflect the opinion of the editorial board or Bloomberg LP and its owners.
Sarah Halzack is a Bloomberg Opinion columnist covering the consumer and retail industries. She was previously a national retail reporter for the Washington Post.