This Opioid Bill Is Great, Except For One Big Thing
(Bloomberg Opinion) -- When it comes to the problem of opioid addiction, it can almost be argued that any action to stem abuse is good. America has a legitimate and growing public-health, law-enforcement, and humanitarian crisis on its hands. 
From that perspective, the bipartisan bill that's set to be signed into law on Wednesday afternoon by President Donald Trump is a genuinely excellent development. It does a number of good things. For example, it will authorize the creation of new recovery centers for addicts, get the life-saving, overdose-reversing medication naloxone in more hands, and put in place measures intended to limit opioid overprescription. Just about every part of the bill is a positive policy shift and a good-faith effort at combating the crisis. 
But the scale of the response is dwarfed by the crisis it is attempting to address and, notably, the most significant thing about the bill is what it lacks: money.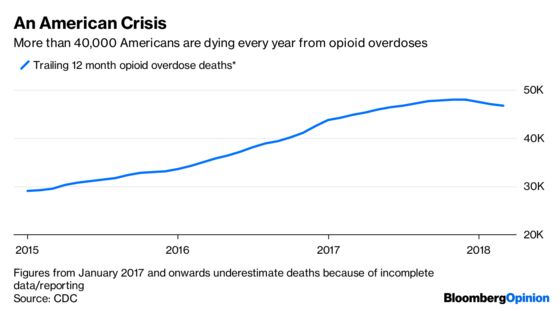 It's tough to overstate the gravity of the opioid crisis. It costs the country tens of billions of dollars a year in health-care and law-enforcement spending. Tens of thousands of overdose deaths and related illnesses are having a tangible effect on U.S. life expectancy. And it exacts a tremendous human cost from affected individuals and families. 
Recent data from the Centers for Disease Control suggests opioid overdose deaths may be plateauing after years of increases. But it's too early to tell if this is a blip or a real trend — overdose figures tend to get adjusted, and steadying at nearly 50,000 deaths a year isn't exactly cause for celebration.
This bill continues some previous funding to help aid in treatment, and does create several new grants and programs. The Congressional Budget Office estimated that an earlier version of the bill would add about $8 billion in additional spending on the opioid crisis over five years if Congress decides to be generous in the appropriations process. The real number will probably be less, but either way, researchers believe it would take spending in excess of $8 billion annually over many years to actually make a dent in the crisis. Even with an earlier $3.3 billion congressional outlay, we're nowhere near that.  
Money doesn't solve all problems. But for a crisis of this scale, an infusion of ample funding, ambitiously applied, is a big part of the solution. Too many people addicted to opioids, even those who overdose and survive, don't get real treatment. In the too rare cases that people do end up getting treatment, it's often inadequate. 
There is still a stigma against medication-assisted treatment with drugs like buprenorphine and methadone, even though it is more effective at reducing the likelihood of death and relapse than other approaches. A study of 2016 data found that only 41 percent of treatment providers in the U.S. offered any kind of drug-assisted treatment. Few of that subset offer more than one of the three widely used options, making it tough to match patients to the treatment that's best suited to them.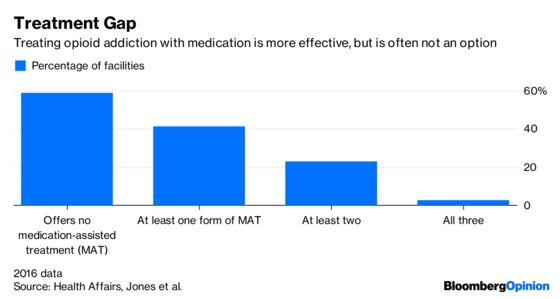 This bill acknowledges that issue, particularly with its effort to reduce restrictions that make it tough to prescribe these drugs. But a considerable amount of infrastructure needs to be built, and dramatic shifts are needed in how addiction and its treatment are approached. That won't happen without a more robust effort. It's great that the bill plans to create new treatment systems, for example, but it's unlikely to create nearly enough. 
The U.S. needs to find a way to make treatment, and specifically medication-assisted treatment for those that need it, the norm rather than the exception. That's an incredibly ambitious and difficult goal, but that's as it should be for what's arguably the biggest emergent public-health issue in the country. 
This bill has much more modest aims, and will have a much more modest impact. 
This column does not necessarily reflect the opinion of the editorial board or Bloomberg LP and its owners.
Max Nisen is a Bloomberg Opinion columnist covering biotech, pharma and health care. He previously wrote about management and corporate strategy for Quartz and Business Insider.