Oil Producers Deliver a Masterclass in Gaslighting
(Bloomberg Opinion) -- Saudi Energy Minister Prince Abdulaziz Bin Salman delivered an hour-long masterclass in gaslighting after Thursday's virtual meeting of ministers representing the OPEC+ group of oil producers. Arguing that the current energy crisis had been caused by decades of anti-oil policies, he tried to convince the world that it wasn't producers' job to help fix it.
The prince was defending the group's decision to ignore requests from some of the world's biggest oil consumers, including the U.S., Japan and India, for producers to open the taps wider in December to meet elevated demand. The fear is without more supply, rising energy prices will continue to feed inflation and choke off the global recovery.
The producers' lack of interest in their customers' concerns — they seemed more intent on breaking last month's record for the shortest meeting ever than on having any serious discussion — should come as a wake-up call that, despite what Prince Abdulaziz would have you believe, OPEC+ exists to look after the interests of its members, nobody else. Countries can't rely on the group to step up when needed. 
This becomes all too clear if you consider how the energy minister approached his press conference. It was a remarkable exercise in how to avoid taking responsibility, with the key lessons being six-fold:
1. Build a wall around yourself. These meetings typically feature just the Saudi minister and his Russian counterpart, Alexander Novak. This time, minister after minister — I counted at least five of them — was called up to say how responsibly the group was acting and how they supported the decision to continue raising output targets by 400,000 barrels a day each month into in December, but not raising it any more than that.
2. Ignore anything inconvenient. If it wasn't for the United Arab Emirates's Suhail Mazrouei acknowledging the pressure from countries to open the taps wider, you'd never have known that was the broader environment in which this meeting took place.
3. Deflect attention. The prince went back more than 40 years to berate consuming countries for their anti-oil policies. Pulling out a declaration from the G7 Tokyo Summit Conference of 1979 that identified the group's most urgent tasks as being "to reduce oil consumption and to hasten the development of other energy sources," he suggested that governments' policy decisions were the root cause of the current energy crisis.
4. Play dumb. When asked why the producers hadn't agreed to open the taps wider, Prince Abdulaziz said that it was because that's what they'd agreed to do back in July. But what is the point of OPEC+ meeting every month if all it's going to do is slavishly stick to a decision it made months ago, no matter how much the market around it changes?
5. Blame someone else. The message was: The energy crisis lies everywhere except the oil market so producers have no role in trying to ease it. Oil has been an island of stability in a sea of chaos. Prices of other fuels were sky-high, while oil had risen by a mere 36% since the start of March.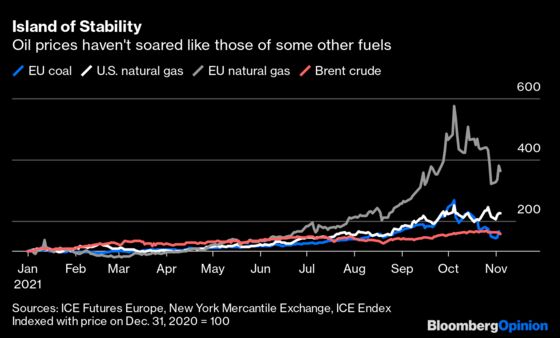 But March is an arbitrary baseline. A more logical comparison with, say, the start of the year would undermine the claim for oil's stability. At its peak, Brent was up by 67% from the beginning of January, reaching its highest level for almost seven years. It's not as worrisome as soaring prices for other fuels, but it's still too big to be shrugged off.
The question isn't whether the oil producers can do anything to alleviate the surge in natural gas and coal prices, but whether the situation in the oil market warrants them opening the taps more quickly than they planned four months ago.
Analysts, including OPEC's own, agree that oil inventories are still falling and that those in the countries of the Organization for Economic Cooperation and Development are well below their average 2015-2019 level. Getting those well-reported stockpiles back to that level was identified by Prince Abdulaziz as a target for the producers. Driving them below it wasn't.
6. Resort to absurdity. The Saudi minster tried to argue that systemic under-production by countries like Nigeria, Angola or Malaysia was the result of maintenance work and that next month they would restore output to target levels. I don't know whether he really believes that or whether it's just a convenient fiction. But it's rubbish.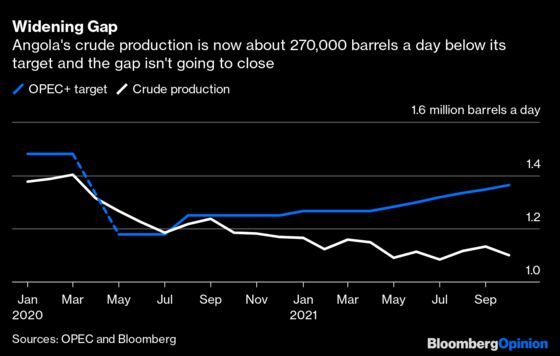 Those producers who have spare capacity won't step in to make up the shortfalls from those who can't reach their targets, even though OPEC+ as a whole is now pumping about 700,000 barrels a day below its target, with several countries simply unable to meet their targets.
Of course, I understand why the ministers don't want to reopen the question of individual output targets. The original deal was hard enough to put together; revising it will set them off on another lengthy squabble. Nobody wants to admit that their production is in decline, perhaps terminally.
Masterclass for getting out of something you don't want to do, over. What are we left with?
Forecasts show the oil market flipping from shortage to surplus in the first quarter of 2022. The prince says it will happen in December, so maybe he's right and oil prices will soon begin to slide, though I doubt he'll be as keen to stick to July's program of output additions if that starts to happen.
In the meantime, U.S. President Joe Biden's administration is considering its response to this very public rebuff, with no good options.
As Energy Secretary Jennifer Granholm pointed out after the meeting, even though the U.S. doesn't depend much on physical oil from OPEC countries, its gasoline prices are linked to a global market that does. Hinting at a release of crude from U.S. strategic stockpiles may be enough to keep a lid on prices for now, but mere words won't deliver more oil — and nor it seems will OPEC+.
This column does not necessarily reflect the opinion of the editorial board or Bloomberg LP and its owners.
Julian Lee is an oil strategist for Bloomberg. Previously he worked as a senior analyst at the Centre for Global Energy Studies.
View
Opinions
From Business And Policy Experts On BloombergQuint