Nomura Should Try to Be More Japanese
(Bloomberg Opinion) -- Nomura Holdings Inc. will have to sharpen its focus and develop a more pronounced Japanese flavor overseas to move ahead. That means bulking up at home and cutting costs elsewhere.
The 2016 profit recorded by Nomura's international business is a distant memory after the securities firm shuttered much of its European stock trading. The company posted a rare quarterly loss on Wednesday, blaming a U.S. fine for pre-2008 transgressions, a dwindling Japanese appetite for trading, and declines in fixed income and currencies in the international operations.
With revenue from FICC looking grim for all investment banks, Nomura's main option is to trim expenses outside Japan. As things stand, a lot of administration is still done from a high-cost London base, while U.S. expansion, even if measured, will remain a burden: The firm lost money in the Americas and Europe in its fiscal year ended March 31.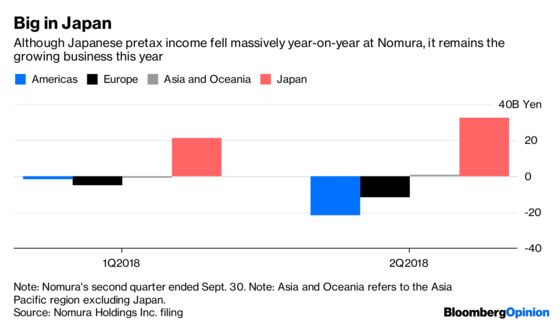 On-again off-again attempts to build up overseas, notably when Nomura acquired Lehman Brothers Holdings Inc.'s Asian and European assets 10 years ago, are understandable: Japanese investors are the firm's core, but they've been slow to make the transition from traditional savings to investment. This year's rout in emerging markets has made already conservative domestic clients even more cautious.
Nomura could do a lot more to fix its home market, where the firm lacks the cross-selling savvy of rivals like SMBC Nikko Securities Inc. A sharpened focus on Japanese customers would pay off if Prime Minister Shinzo Abe's government introduces more measures to stimulate investor appetites, says MUFG Securities.
An IPO by SoftBank Group Corp. could help turn the tide for Nomura, an underwriter of the mega-deal. It's telling that rival Daiwa Securities Group Inc., with its more domestic bent, has outperformed Nomura in the past year.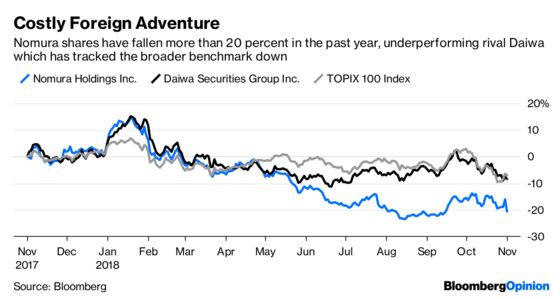 Still, Nomura has tried to streamline, and its international business is far from a failure. More of its Asian trade booking, done until recently out of London, is moving to Singapore. The brokerage is improving links between investment bankers and traders through a client financing and solutions unit. And Asia ex-Japan has been an outlier, posting a 1 billion yen ($8.9 million) pretax profit in the second quarter even as the rest of the international operation was in the red.
There's still work to be done, especially as Nomura's FICC focus outside Japan won't help much. Goldman Sachs Group Inc., for example, managed to reduce its dependence on fixed-income trading by diversifying – even into consumer banking. 
After its Lehman misadventure, Nomura has no such ambitions. But that means it will have a tough time keeping the growth in costs below that of revenue. Expenses in wholesale (or investment) banking were $6.3 billion a year on average until fiscal 2015-16. In the two years through 2017-18 they averaged $5.4 billion, but are expected to rise again to $5.9 billion by 2020 and beyond. Nomura doesn't strip out international operations from this total.
Nomura should remind itself that it's Japan's largest brokerage. That's the franchise for the future.
This column does not necessarily reflect the opinion of the editorial board or Bloomberg LP and its owners.
Nisha Gopalan is a Bloomberg Opinion columnist covering deals and banking. She previously worked for the Wall Street Journal and Dow Jones as an editor and a reporter.