Nokia Can't Shake Off 100 Billion Euros of Mistrust
(Bloomberg Opinion) -- Why does the market hate Nokia Oyj so much? The Finnish telecom networks giant is expected to be more than twice as profitable as Swedish peer Ericsson AB this year, and to keep its lead on margins until 2020 and beyond.
Yet while Nokia shares are worth 16 times its expected earnings, Ericsson's trade at 28 times. That's some premium for a company whose business is essentially capital goods.
Much of this is because Ericsson's earnings are recovering from such a low base, given how poorly it's been run in the past. If you believe in the turnaround story of new CEO Borje Ekholm — and he's off to a decent start — then you'll expect things to get much better. Since assuming the mantle last year, he's set about improving execution and bringing profitability closer to Nokia's. It's a big task: Ericsson's net profit margin was 0.3 percent last year, compared to the 5.4 percent at its rival.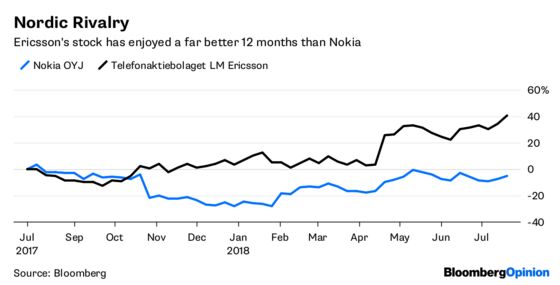 Even though Ericsson is closing that gap, the turn in sentiment against Nokia can seem a little overdone at times. 
The Finnish company's CEO Rajeev Suri warned in April that "top-line weakness" would persist in the first six months of 2018, ahead of a second-half recovery as mobile operators start spending heavily on 5G networks. Yet when he reported a second-quarter net loss on Thursday, the shares fell almost 10 percent at one point. The market seems unwilling to cut Nokia any slack.
It may be a visceral reaction based on collective memory. In its cellphone-making pomp before the iPhone came along in 2007, Nokia's valuation topped 100 billion euros ($117 billion.) By 2012, it had tumbled to 15 billion euros and is now about 26 billion euros. The fear of mismanagement seems to linger.
Yes, Nokia has made two consecutive quarterly losses, but it is sticking by its full-year targets for now in hope of that burst of 5G spending. Its return on equity is far superior to that of Ericsson.
In an industry dominated by two big listed companies (China's Huawei Technologies Co. Ltd. is in private hands), it's natural for analysts and investors to favor one and dislike the other. But in Nokia's case, it looks a little out of whack.
This column does not necessarily reflect the opinion of the editorial board or Bloomberg LP and its owners.
Alex Webb is a Bloomberg Opinion columnist covering Europe's technology, media and communications industries. He previously covered Apple and other technology companies for Bloomberg News in San Francisco.