Nissan Now Has More to Worry About Than Ghosn
(Bloomberg Opinion) -- Wade past the shadows of the Carlos Ghosn debacle and a picture emerges of a car business that was already in deep trouble.
Nissan Motor Co.'s operating profit dropped around 14 percent in the first nine months, margins shrank and net income tanked 45 percent from a year earlier, the Japanese carmaker said Tuesday. The company also booked a 9.2 billion yen ($83 million) expense related to its former chairman's compensation. Through all the recent twists and turns in the Ghosn drama, it's now clear there have been problems for a while in the way the business was being run, not just in its corporate governance.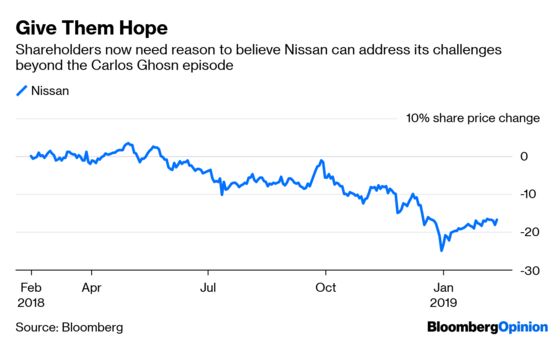 Whatever can be said of Ghosn's tenure, Nissan's strategy was falling apart. In China, the carmaker operates in provinces that have underperformed for the past two years – not just during the market's sharp slowdown of recent months. About 20 percent of volume from its venture with Dongfeng Motor Group Co. was exposed to lower-tier cities, where sales have come off faster than in larger urban centers. Sales from January through December rose 2.9 percent, mostly driven by one model, as green policies gave a boost to the recently released Sylphy Zero Emission.
In the U.S., Nissan's strategy was flawed to begin with, as I've written. While the latest numbers showed an 8.4 percent drop in retail volumes, the quality of its U.S. sales has always been subpar. The incentives Nissan offered – exceeding those of peers – were never going to be a long-term substitute for the right model. 
CEO Hiroto Saikawa said the company was trying to lose its old habit of being overstretched in the U.S. Nissan is now trying to address its brand value in the U.S., rather than volumes, he said.
The carmaker is struggling to bring down these marketing expenses. It reduced incentive spending by about $190 per vehicle last month, though the figure remains at more than $3,500 – still the highest level among Asian carmakers in the U.S. market. Nonetheless, Nissan has been the biggest market-share loser for much of the past year, with its sales falling more than the industry's.
Even in Japan, the hit to Nissan's brand from the Ghosn saga and lagging model releases have eroded market share. Domestic sales declined in January. Meanwhile, Nissan's European sales fell 13.2 percent.
There's more bad news for shareholders, including alliance partner Renault SA. On an earnings call in November, Nissan said it expected free cash flow to recover with earnings in the second half, forecasting a figure of about 300 billion yen for the full fiscal year. For the first nine months, though, free cash flow was a negative 105.9 billion yen.
In this light, will the company be able to pay its promised 220 billion yen, or 57 yen a share, of dividends?
Speaking at Tuesday's press conference, Saikawa once again said he felt bad and took responsibility for Ghosn's alleged misconduct. Nissan's dismal corporate governance is no longer up for debate. The bigger concern is the core business. Investors will be wondering whether it can be turned around. 
This column does not necessarily reflect the opinion of the editorial board or Bloomberg LP and its owners.
Anjani Trivedi is a Bloomberg Opinion columnist covering industrial companies in Asia. She previously worked for the Wall Street Journal.