Nintendo Investors Need to Netflix. And Chill
(Bloomberg Opinion) -- A 4 percent rebound in Nintendo Co. shares Monday morning brought a five-day, 14 percent slide to a halt.
Investors may be buying the dip, or they may truly believe concerns over the company's future are exaggerated.
The final stage of last week's rout was a 9.1 percent drop on Friday following Nvidia Corp.'s earnings and outlook.
Nintendo uses Nvidia's Tegra graphics chips in its Switch console, and some people took to heart CFO Colette Kress's comments about that segment.
In Q4, we also expect minimal sales of Tegra chips for game consoles due to the normal seasonal build cycle.
Kress reiterated her point in response to a question from Goldman Sachs Inc.'s head of semiconductor research, Toshiya Hari.
What we're seeing is just normal, where they build ahead of the holidays in Q3 and that slows down as we move into Q4 when we're in the middle of the holidays.
Either Nintendo investors weren't listening on Friday, or they just didn't buy her explanation.
It didn't help that Tegra sales fell 3 percent in the third quarter. And given the supply-chain lag, that could be taken as a leading indicator of future Switch sales.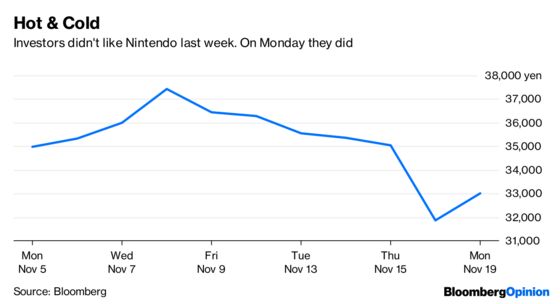 But no matter the reality, Nintendo investors tend to overreact. Literally.
Volatility of Nintendo stock over the past two years has been much higher than that of compatriot Sony Corp. In fact, the only time Sony's 30-day volatility was wilder came in November last year when the maker of PlayStation 4 boosted its revenue and profit outlooks.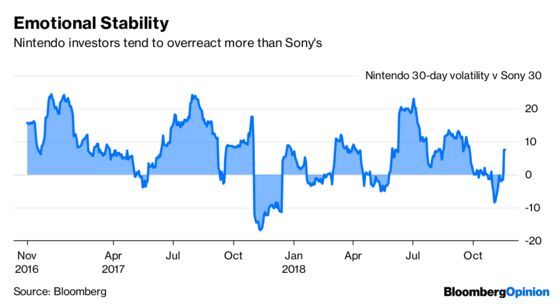 What helps Sony, and hurts Nintendo, is product diversity. The Sony name is attached to a wide catalog including games, movies, music and electronics components. Nintendo lives and dies by shipping gaming hardware, and then selling games to run on that hardware.
This means that any tidbits about the outlook for either segment sends investors into a tizzy. 
The September launch of its subscription service, Nintendo Switch Online, could bring stability to its revenue flow. Much like Netflix Inc., Nintendo charges a monthly fee and customers get access to the whole suite of content. Some may use it more, some less, and some may even forget they have it. But Nintendo still collects that monthly check.
Actually, in a legendary feat of price anchoring, Nintendo offered three options and discovered that more than half opted for the cheaper annual package.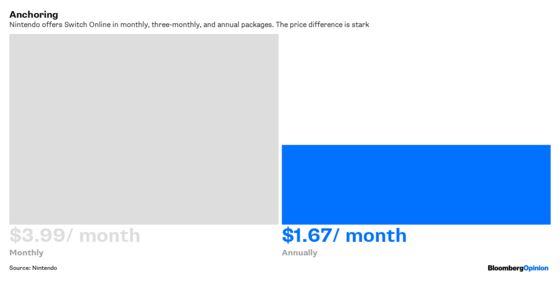 Nintendo has sold 23 million units of the Switch handheld-console hybrid since it went on sale in March last year. By comparison the Wii console, released in 2006, has sold 102 million and the handheld Nintendo DS (2004) 154 million. Should Switch get even halfway to closing that gap on Wii, and 30 percent sign up for the subscription, then Nintendo could pull in an extra $360 million in annual revenue.
That's minuscule compared to sales of hardware and discrete software titles, but it's stable revenue with relatively high margins. Nintendo also plans to leverage these subscriptions to sell more products such as controllers developed for Switch Online, which may help further ease the boom-bust cycle of new releases.
Doubtless Nintendo investors will still get excited about any shred of news they come across. But with more of a Netflix model, perhaps they'll learn to chill.
This column does not necessarily reflect the opinion of the editorial board or Bloomberg LP and its owners.
Tim Culpan is a Bloomberg Opinion columnist covering technology. He previously covered technology for Bloomberg News.