Next Is Only the Smallest Cloud in Britain's Summer Sky
(Bloomberg Opinion) -- The problem with nice hot summers is that they don't last. 
Retailer Next Plc said the heat wave did indeed prompt Brits to buy more t-shirts, shorts and linen dresses — second-quarter own-brand sales rose 2.8 percent in the 12 weeks to July 28. Although that was just below the consensus of analysts' estimates, it was ahead of the company's own forecasts.
But Next also warned that the purchases made in July would take demand away from August. Consequently, it left its forecast for full-year pre-tax profit unchanged, at 717 million pounds ($940.1 million). Investors punished the company's caution with a share price drop of 6 percent.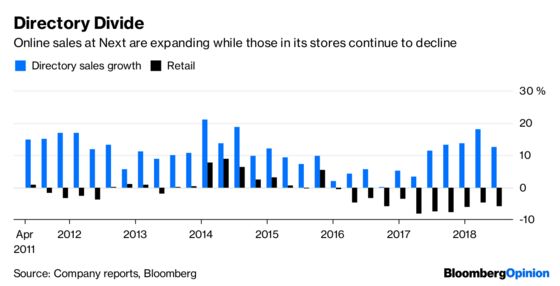 But its approach is the right one. Retailers should be worried that Brits' free spending over the summer, on everything from clothing to trips to the pub to watch the World Cup, will have to end.
More to the point, it's another sign that the rosy outlook for the consumer that we saw at the start of the year is turning decidedly more gray.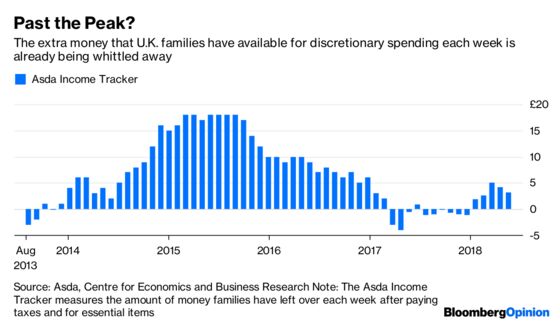 Although pay growth has finally risen above inflation, people aren't actually flush with cash. The amount that consumers have left over after paying for essential items has already fallen from its 2018 highs, according to Asda and the Centre for Economics and Business Research. If the heatwave across much of Europe starts to feed through to higher food prices, that surplus could be squeezed further.
A report last month from the U.K. Office for National Statistics showed the squeeze actually arrived last year, when consumers' outgoings exceeded their incomes for the first time since 1988.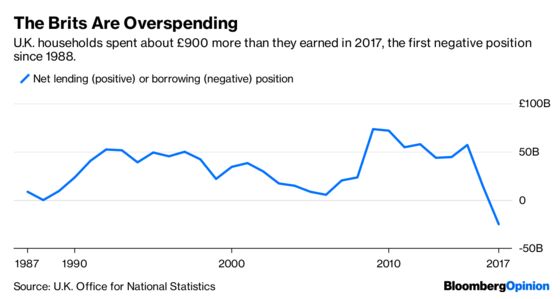 Sentiment won't be helped by the political turmoil over the process of leaving the European Union.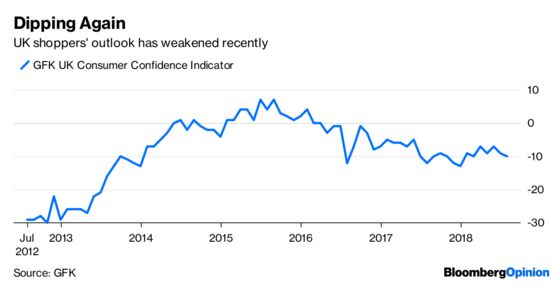 Next is not immune from the travails of the high street. It also faces more difficult comparisons over the remainder of its financial year.
But it is in the fortunate position that it throws off cash, to the tune of about 300 million pounds this year. So it won't have any problems stocking up for the holidays. That's not necessarily the case for its competition — House of Fraser is seeking a loan from investor Mike Ashley to fund its pre-Christmas stockbuild, Sky News reported Monday. And life is surely not easy for Debenhams Plc.
The turmoil at its rivals should give Next a lift. Capacity is coming out of the retail market, and sales that would have gone to stores that are closing down must go somewhere. Next, with its new out-of-town outlets, offers an alternative for shoppers seeing local department stores looking increasingly tired. The company's Label business, which sells third-party brands, also provides another route to market for clothing companies that traditionally sold through the likes of House of Fraser and Debenhams.
Next doesn't have the burden of having to manage a tail of underperforming locations that it needs to unload, since it has actively managed its store portfolio for many years. It is renegotiating leases on stores when they expire, and is achieving an average rent reduction of 25 percent, and terms of five years, on renewed contracts.
But even with Wednesday's decline, Next shares are up more than 40 percent over the past year. They trade on a forward price earnings ratio of around 12.7 times, a deserved premium to the average of about 11 times for U.K. clothing retailers.
Next often under-promises, and over-delivers. That looks like a tall order right now, given the clouds gathering in the U.K. consumers' sunny skies.
This column does not necessarily reflect the opinion of the editorial board or Bloomberg LP and its owners.
Andrea Felsted is a Bloomberg Opinion columnist covering the consumer and retail industries. She previously worked at the Financial Times.