Netflix Spoiled Us Rotten
Bloomberg
Opinion
(Bloomberg Opinion) -- Netflix Inc. has spoiled us.
It accustomed viewers to the prospect of a relatively cheap video service without advertising interruptions and with what feels like an unlimited assortment of TV shows and movies that can be watched at any time. It did this at the expense of an economic business strategy, prioritizing customers over profits.
Whether Netflix's approach is viable in the long run is up to either its subscriber growth or the appetite of debt holders, both of which are changeable. And yet, despite being a business that continues to spend beyond its means, just about every established media company — and even some non-media giants — is trying to mimic Netflix as best as their own profit-sensitive investors will allow.
All of them are falling short in some way. Free service? Then you must endure ads. Subscription? Chances are it's more expensive than Netflix, or it offers less variety. I did an informal survey of 100 people over social media to see what's more appealing to them: paying up to not have ads or paying nothing and having to sit through ads. For many, it comes down to the price, and for those where it didn't, ads were still an unpopular option: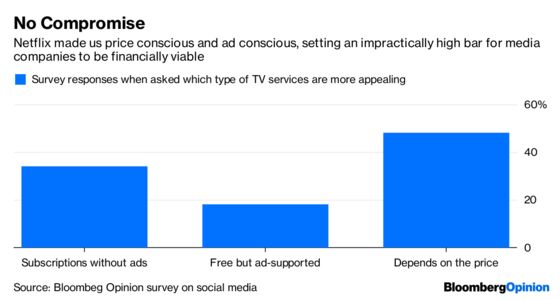 Then I asked these same folks how much they're willing to pay for TV viewing per month — and I have to tell you, I laughed. The average response was about $30, which will get you, say, a Netflix subscription and one, maybe two, other apps at most (the majority of respondents say they already have Netflix and Amazon Prime). Forget DirecTV Now, PlayStation Vue and YouTube TV because they're out of that budget.
It's also possible that some people don't realize how much they're already paying for their TV services, and that's partly what these media companies may be hoping is the case. Subscribing to (and canceling) online offerings is easier than the cumbersome process around cable, but $5 here and $10 there starts to add up quickly. Furthermore, in an age of monthly subscriptions for everything from TV, games and music, to gyms, snacks, meal kits, makeup, razors and so on, media brands and their deluge of new offerings aren't just competing with one another for millennials' money.
Still, it seems like a new online TV option is launching every day. AT&T Inc., the recently christened media conglomerate, as well as megaretailers Walmart Inc. and Costco Wholesale Corp., are said to be the latest to have plans for video-streaming services, adding to an already jumbled and confusing marketplace. AT&T itself owns DirecTV Now, one of the many cable-like packages that allow subscribers to watch a couple dozen channels or more at prices lower than traditional pay TV. There's also AT&T Watch TV, a cheaper package geared toward mobile customers. The service AT&T plans to launch next year will reportedly center around HBO, which already has its own HBO Now direct-to-consumer app. And if you're dizzy now, remember that's all just from AT&T. 
Costco's potential service sounds similar to Amazon Prime Video in that it would be a perk for Costco "executive" members, according to The Information. Meanwhile, Variety reports that Walmart is looking to bolster its free, advertising-funded Vudu service by creating original series through a partnership with MGM. Other ad-supported platforms include The Roku Channel, Tubi and Pluto TV.
At times, it's as if there's both too much and not enough worth watching when endlessly scrolling through Netflix. The company is scheduled to report earnings after the close of trading Tuesday and will disclose how many people signed up for its service during the quarter (analysts predict about 5.5 million new subscribers on a net basis, according to data compiled by Bloomberg). Last quarter Netflix's growth disappointed and the stock tanked. But it could be that at $10.99 a month and with its simplicity, many cord-cutters find they're just willing to settle for what Netflix offers.
After all, the other media entertainment giants haven't yet figured out what consumers want. And, thanks to Netflix, they're not going to like the answer.
This column does not necessarily reflect the opinion of the editorial board or Bloomberg LP and its owners.
Tara Lachapelle is a Bloomberg Opinion columnist covering deals, Berkshire Hathaway Inc., media and telecommunications. She previously wrote an M&A column for Bloomberg News.