Netflix Investors, We Need to Talk About Churn
(Bloomberg Opinion) -- Think of the streaming wars as a game of Jenga: How many subscriptions can you stack atop consumers before they start to pull out and the whole thing comes tumbling down? It's that moment that has streaming-video executives nervous — only they refer to it as "churn and burn," industry jargon for losing subscribers and their associated dollars.
Most streaming services are still very new, but eventually churn will creep up. Those that can't hold onto enough memberships will have to fold or sell to more stable rivals. As the incumbent with the most customers to lose, Netflix Inc.'s shareholders will be keeping a watchful eye on its churn rate, including gleaning what they can from its next earnings report, which is set to arrive Tuesday after the stock market closes.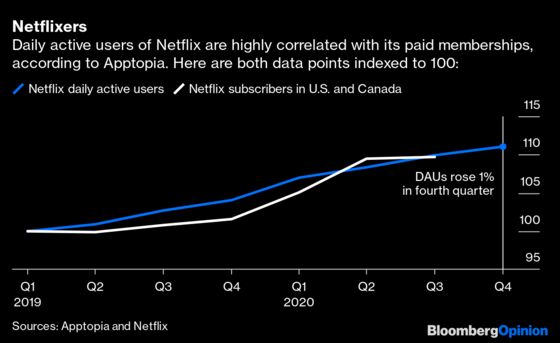 Some analysts are already beginning to favor Walt Disney Co.'s Disney+ because Netflix recently raised prices and doesn't have much room left to grow in the U.S. The average estimate compiled by Bloomberg calls for Netflix to add about 6.1 million subscribers globally for the latest period, compared with more than 16 million for Disney+. By the end of 2021, more than three-quarters of U.S. streaming viewers will already be using Netflix, according to eMarketer projections: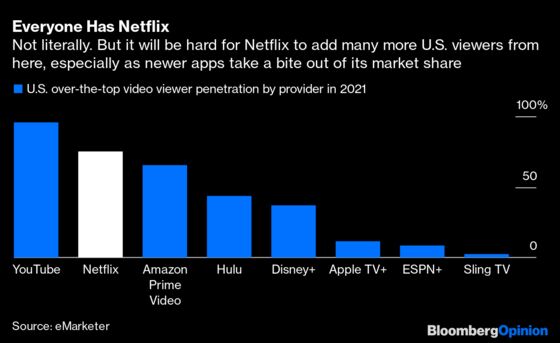 Just two years ago, there weren't many on-demand video alternatives to Netflix aside from your own stack of dusty DVDs or the local gas station's Redbox kiosk. Netflix users — at the time paying just $11 a month for the standard plan (now $14) — wouldn't have much of a reason to cancel. But in the last 14 months, Apple TV+, Discovery+, Disney+, HBO Max and Peacock all entered the marketplace, and CBS All Access is soon re-launching as the mightier Paramount+. If we were to take all the plus signs literally, these services would add up to a steep monthly bill of $57, before even factoring in the cost of internet, a necessity for streaming. 
Sure enough, this has spurred a lot of "hoppers," or consumers who cancel and re-subscribe repeatedly to many different apps. Netflix releases a new season of "Cobra Kai," so they binge that one month, then switch to whatever's on Disney+ for the next billing cycle. As of the third quarter, 61% of U.S. households subscribed to two or more streaming services, while a third of hoppers subscribed to five or more, according to industry researcher Parks Associates. But 17% of hoppers also canceled five or more services in the past 12 months. This is a nightmare for the media companies because it creates a ton of volatility in their financial results. 
Since hoppers chase content, there's at least a high likelihood they will return when popular programming is released. The greater fear is when users don't come back to a service because a competitor is consistently providing enough bang for the buck. So when do any of these apps have to worry about getting left out in the cold? Perhaps later than you or I initially thought.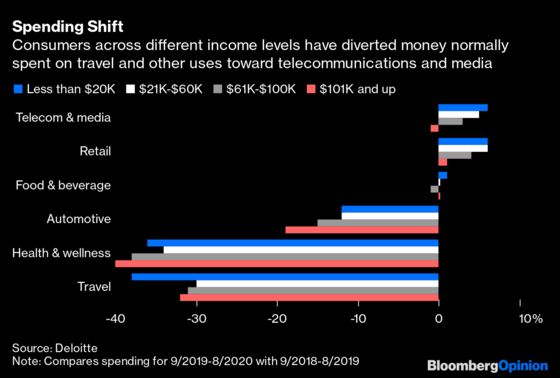 Those bracing for "churn and burn" forgot to factor this into their calculus: We still have absolutely nothing else to do right now. No trips to Europe or Disney World. No Taylor Swift concerts. Not even a night out for dinner and a movie. And all the money we're saving not doing those things is probably best spent on in-home entertainment. Given the slow progression of the vaccine rollout, this may be true for a while longer. 
For the industry, that means the bar couldn't be lower. Plus, all of these companies are stepping up their game. AT&T Inc.'s Warner Bros. is putting its 2021 films on HBO Max the same day they each hit the big screen. Disney+ has a heap of new stuff coming. Netflix is going to release a new movie every week. So for many families, it makes sense to subscribe to as many apps as they can, or at least hop back and forth until it's safe to go back to doing activities outside the house again. That buys the companies time to get their houses in order. 
But the anxiety of playing Jenga is that you know what's coming. The industry can't support all these subscriptions forever. 
This column does not necessarily reflect the opinion of the editorial board or Bloomberg LP and its owners.
Tara Lachapelle is a Bloomberg Opinion columnist covering the business of entertainment and telecommunications, as well as broader deals. She previously wrote an M&A column for Bloomberg News.