Netflix Reckoning May Come Some Day, But Not Today
(Bloomberg Opinion) -- Investors in Netflix Inc. care about one number above all—and it's still impressive. 
Netflix reported third-quarter results after the close of trading Tuesday, which showed the streaming service signed up 6.96 million new users on a net basis, handily beating analysts' expectations. Management also expects a whopping 9.4 million new customers in the final three months of 2018, likely led by international markets. This is the reassurance shareholders needed after last quarter's blip, and it should make investors in other media giants nervous.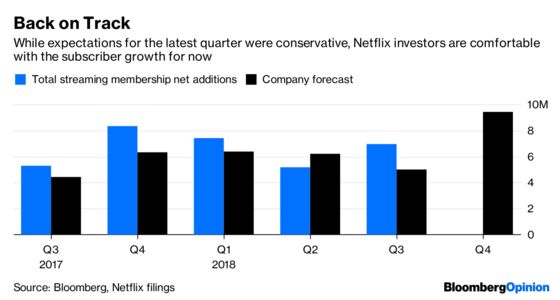 As I wrote earlier Tuesday, Netflix has spoiled us to the point that none of its rivals can possibly match what the service offers. It's affordable, there aren't any commercial breaks and it has a deep and diverse library of TV shows and movies. Netflix's financial standing, of course, falls far short of that of Walt Disney Co., CBS Corp. and the like, given that its strategy is to keep borrowing money to buy or create new content. Just look at its free cash flow, flowing right out the door: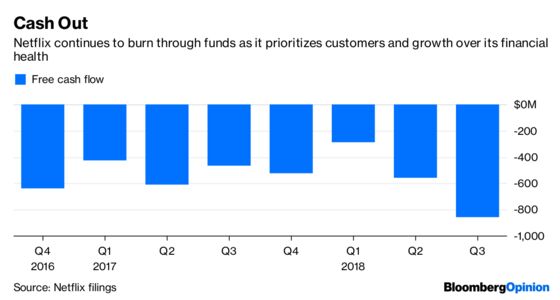 But as long as Netflix is drawing lots of new subscribers, then investors are happy—so happy, in fact, they were buying up Netflix shares for around $388 apiece in after-hours trading, 12 percent above Tuesday's official closing level. That's because once Netflix lures in customers, they're pretty much hooked, making it very hard for the slow-moving legacy media giants to steal them away. Both Disney and AT&T Inc. are planning to launch TV apps next year around their own premium content, amid what's already a deluge of streaming and on-demand services out there. But most of these options are either significantly more expensive than Netflix, offer less variety or come with annoying ads.
Aside from Marvel and HBO superfans, media companies may be counting on consumers' willingness to pay for numerous apps to piece together all the content they want to see. But eventually that will add up, and then this new competitive streaming market wouldn't be any cheaper or offer much more choice than old-school cable bundles do. 
So long as Netflix is able to keep tapping the debt market and continuously stuffing its product with enticing new shows and films—neither of which is a given, by the way—the likelihood of its subscribers running to another service is probably low. It's for that reason investors can put on blinders to the company's financial statements and keep the faith. 
This column does not necessarily reflect the opinion of the editorial board or Bloomberg LP and its owners.
Tara Lachapelle is a Bloomberg Opinion columnist covering deals, Berkshire Hathaway Inc., media and telecommunications. She previously wrote an M&A column for Bloomberg News.