Netflix Is Bingeing On Debt For All The Right Reasons
Bloomberg
Opinion
(Bloomberg Opinion) -- Netflix Inc. is going back to the well. The streaming giant is selling $2 billion of junk-rated bonds to keep up its torrid pace of acquiring and funding new programming. 
At first glance, this offering, which will include both dollar- and euro-denominated senior unsecured notes, seems to fit the mold of a recent $2 billion sale by Uber Technologies Inc. Both are known just as much for their global reach as their penchant for burning through cash. According to Stephen Flynn at Bloomberg Intelligence, Netflix will probably have annual cash-flow deficits in the $3 billion range, giving it little choice but to turn to the speculative-grade market to bridge the shortfall. It has done so at least once a year since 2013.
Just knowing that would rightfully make investors nervous. But what makes Netflix's plan stand out is that it also wants to take on more debt. That's because its stock price has surged so much — from $50 five years ago to more than $300 today — that its capital structure is out of whack.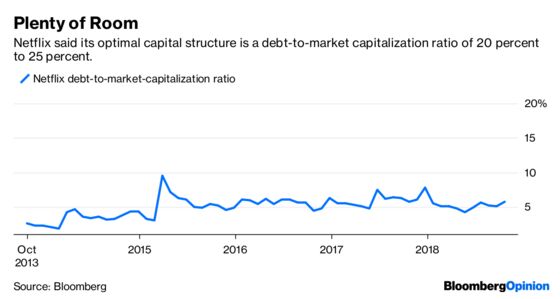 Netflix, which the equity market values at about $140 billion, would have to issue somewhere between $22 billion and $30 billion of debt to achieve its optimal long-term debt-to-market capitalization ratio of 20 percent to 25 percent. It has already started that process, but has a long way to go. As Flynn notes, even though the company's debt load has almost doubled over the past year, the ratio still stands at about 5 percent. Many competitors don't have that sort of capacity: Comcast Corp. has a ratio of 39 percent, CBS Corp. is at 48 percent and Viacom Inc. is up to 74 percent. Of course, they also produce positive free cash flow.
Now, it's fair to ask whether ramping up leverage for the sake of an optimal capital structure is prudent. But it all seems like part of a broader plan for the company to maintain its place atop the online-streaming world. S&P Global Ratings raised Netflix to BB- last week, just three steps below investment grade. Earlier this year, Moody's Investors Service also upgraded the company, saying it expects 2018 will represent the "trough" of negative cash flow. It should turn positive in five years, either because of a sustained increase in subscribers, or, should that growth unexpectedly slow, because management will cut back on spending for new content. Its owned library of assets is substantial, after all.
Though Netflix's statement said the specifics are still to be determined, it'll likely issue bonds due in 10.5 years, a person familiar with the matter told Bloomberg News. That sort of maturity is in line with some of the company's previous offerings. And even though the U.S. junk-bond market has hit a bit of turbulence in October as the stock market whipsaws, the lack of issuance throughout the year should give investors reason to buy. Uber increased its deal last week by $500 million to $2 billion, enticing investors with yields as high as 8 percent. 
Netflix shouldn't have to pay that much, particularly after just reporting a bigger jump in subscribers than Wall Street analysts expected. Debt issued earlier this year, which matures in November 2028, traded last week at a yield of about 6 percent, according to data compiled by Bloomberg. That's a better rate than the Bloomberg Barclays U.S. Corporate High Yield index, which yields about 6.63 percent, the most since late 2016. Some investors expect the new deal will be somewhere in between.
Total returns have been paltry at best this year for Netflix bondholders. But like the company itself, they're investing for the long term. At a time when many companies are taking on leverage for the wrong reasons, Netflix is solidifying itself among the biggest players in media. If investors can get past the negative cash flow — and they certainly have so far — most other trends appear firmly positive.
This column does not necessarily reflect the opinion of the editorial board or Bloomberg LP and its owners.
Brian Chappatta is a Bloomberg Opinion columnist covering debt markets. He previously covered bonds for Bloomberg News. He is also a CFA charterholder.