Nestle's Deal Junkie CEO Is a Seller at Last
(Bloomberg Opinion) -- Nestle SA's Chief Executive Officer/deal junkie Mark Schneider has wasted no time in snapping up assets, from a Canadian vitamin maker to Starbucks coffee capsules.
I've long argued that he needed to show he could sell too. In the last week, he has done just that.
On Tuesday, he sold the small Gerber Life insurance unit, for the better-than-expected price of $1.55 billion. Two days later, he announced that Nestle is exploring options for its skin health business, which makes injectable cosmetic fillers and acne treatments. The company wrote down the value of this division in its 2017 financial results, indicating that it might come on the block in the near future.

The unit generated sales of $2.8 billion last year, and could be worth between $6 billion and $8 billion, according to Jean-Philippe Bertschy, analyst at Vontobel.
The midpoint of that range is about what it paid for the right to sell Starbucks products outside of its cafes, so the deal would at least replenish Schneider's acquisition war chest. But for a company with a market capitalization of about $250 billion and a strong balance sheet, it won't really move the dial financially.
Nevertheless, it is positive for several reasons. Schneider is under pressure from activist investor Dan Loeb to reshape the portfolio more quickly. This disposal shows the CEO recognizes the need to slim it down, and inspires confidence that he will eventually go further still.
Nestle has other candidates to let loose, including all or part of its U.S. frozen food business and its joint ventures with General Mills Inc. in cereals, and R&R in ice cream.
Schneider is also proving that he can get good prices for the assets he puts on the block. As well as Gerber, he got a pretty decent $2.8 billion for Nestle's U.S. confectionery business.
His timing with skincare looks impeccable, too. As I have argued, while the color cosmetics boom might be fading, demand for skincare, especially in Asia, is rebounding.
A particular hotspot is products that solve problems, such as disguising skin discoloration or treating acne. Last year, L'Oreal SA paid $1.3 billion for three so-called active skincare brands from Valeant Pharmaceuticals International Inc. The French skincare giant would be a natural acquirer of Nestle skin health.
While Schneider deserves credit for tackling the company's diverse portfolio, there is one divestment he has so far resisted, despite Loeb's insistence: the company's $30.4 billion stake in L'Oreal.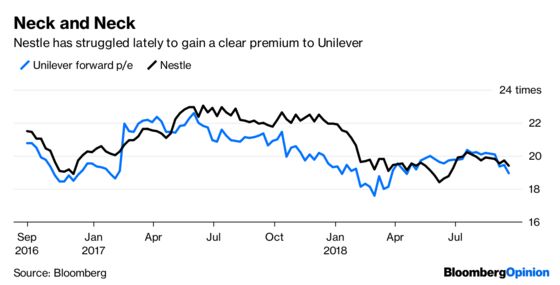 With an activist on the books, any sale will undoubtedly be met with demands for the proceeds to be returned to shareholders. So Schneider will be loath to let it go without a clear plan for using the funds.
Dan Loeb should cool his heels and let him get on with it. The CEO's steady stream of disposals indicates that he's very willing to sell more, but only when he feels the time – and the price— is right.
This column does not necessarily reflect the opinion of the editorial board or Bloomberg LP and its owners.
Andrea Felsted is a Bloomberg Opinion columnist covering the consumer and retail industries. She previously worked at the Financial Times.