Nestle (Partly) Shows How to Answer an Activist
(Bloomberg Opinion) -- Now that's how to answer an activist investor.
Nestle SA, under pressure from Dan Loeb's Third Point, on Thursday reported first-half sales growth that beat analysts' expectations. It also confirmed that the full-year expansion would be 3 percent, within its 2-4 percent range.
The 0.2 percentage point increase in the underlying operating margin to 16.1 percent was not as much as some analysts had hoped. But the company expects margin improvement to pick up in the second half as commodity headwinds ease.
True, growth isn't punching the lights out. But the food sector isn't easy, with little price inflation and consumers switching off of big brands and on to smaller, more local foods.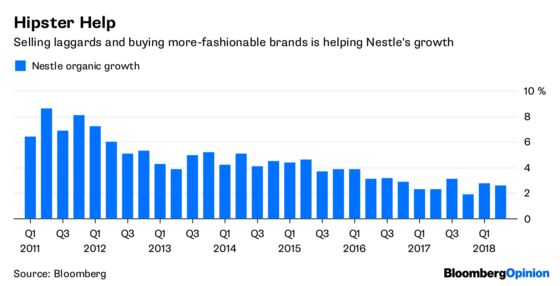 Chief Executive Officer Mark Schneider wants to find a middle ground between companies that chase profits at the expense of the top line, and revenue-focused food startups. Finding new products that inspire consumers is key.
The first-half performance shows that he is getting the balance just about right. Solid sales progression and modest margin improvement look at odds with Loeb's accusation of a "muddled strategic approach."
But there is one area where he still has a point: the need for Nestle to step up the pace of portfolio change.
Schneider has begun to tackle the company's disparate group of businesses. He's offloaded the U.S. confectionery arm and is selling the Gerber life insurance unit. He's also buying, spending $7.2 billion to use the Starbucks brand for grocery items, and snapping up supplement maker Atrium Innovations for $2.3 billion. Some of his changes have already begun to contribute to sales growth.
But so far, this activity accounts for 2.5 to 3 percent of sales, some way from his target of 10 percent. And Loeb wants him to go further, with sales or spin-offs representing 15 percent of revenue.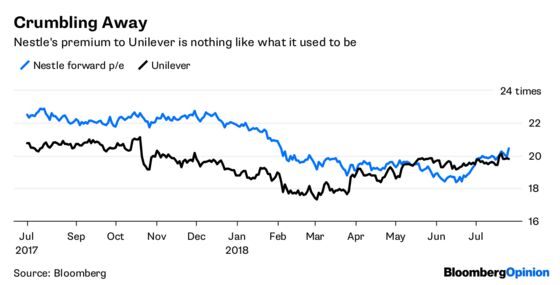 Schneider's cautious pace of change is somewhat understandable. Wholesale sell-offs risk destabilizing the company. And careful handling of the sale of the U.S. confectionery business meant a good price.
But he needs to move faster. And he's got plenty of opportunities. As I have noted, joint ventures, including with Lactalis in chilled dairy and General Mills Inc. in cereals, all fall outside of Nestle's areas of priority — pet care, coffee, infant nutrition and water — and are ripe for corporate activity. Meanwhile, the company has written down the value of its skin health division, a possible prelude to a sale.
The U.S. frozen foods business improved its performance in the first half, but that division, or at least some of its brands, would also be logical candidates for disposal. Nestle should also divest its 27 billion-euro ($31.6 billion) stake in L'Oreal, as recommended by Third Point.
The shares rose as much as 2.8 percent on Thursday on hopes that the food giant was finally turning a corner. But they are only at a very slight premium to Unilever on a forward price to earnings basis.
Schneider has gone a good way to answering Loeb on performance. To satisfy his critic, and revive the significant premium Nestle used to enjoy to its rival, he needs to send a clear message to investors that he'll be just as aggressive on disposals too.
This column does not necessarily reflect the opinion of the editorial board or Bloomberg LP and its owners.
Andrea Felsted is a Bloomberg Opinion columnist covering the consumer and retail industries. She previously worked at the Financial Times.