Morgan Stanley Loosens Purse Strings
(Bloomberg Opinion) -- Morgan Stanley is, all of a sudden, Wall Street's big spender.
The Wall Street firm reported second-quarter earnings on Wednesday morning that were broadly better than expected. Most notable was Morgan Stanley's fixed-income and commodities trading, which beat expectations. Rival Goldman Sachs Group Inc. missed in that unit, where it had once dominated Morgan Stanley, but the fortunes of the two firms have reversed. Overall, the firm's revenue was $10.6 billion, which was more than $500 million above analysts' expectations and 12 percent higher than they were in the quarter a year earlier. Earnings rose nearly 40 percent from a year ago, but more than half of that gain, like at the other big banks, was thanks to President Donald Trump's signature tax cut. Morgan Stanley's tax rate dropped to nearly 21 percent in the quarter from 33 percent a year ago.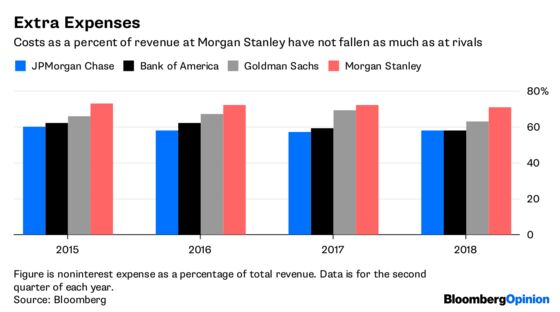 The one exception was expenses, which were higher than expected for Morgan Stanley. The firm has always been a bigger spender than the big banks that have large traditional lending businesses because of Wall Street's outsized salaries. But even compared with Goldman, Morgan Stanley's expense gap has widened. A year ago, Morgan Stanley's noninterest expense as a percentage of revenue was just 3 percent more than Goldman's. This quarter it was 8 percent larger. Goldman also cut its costs 9 percent from the previous quarter. Morgan Stanley's expenses dropped 2 percent.
Some of that difference reflects Goldman's struggles. Analysts said Goldman juiced its earnings this quarter by putting less aside for bonuses than typical. But it's also a shift for Morgan Stanley. Just a few years ago, CEO James Gorman famously told the firm's bankers that bonuses would have to be curtailed. He said anyone who didn't like that could work elsewhere.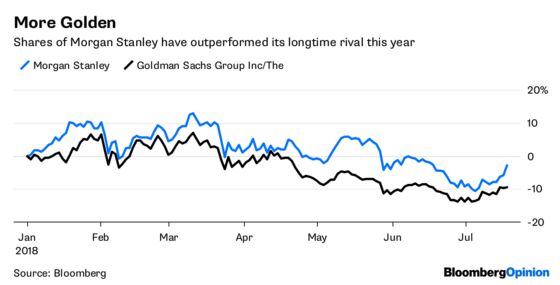 Now it appears Gorman has loosened the purse strings compared with his bank's rivals. It's a luxury for a firm that was nearly wiped out in the financial crisis but now appears to be at the top of its game. Investors most likely won't grumble for now. But Morgan Stanley has a business that is much more tied to the market, as well as a joint venture in China. If a trade war, or something else, causes the firm's performance to slip, Morgan Stanley's hard-won spending privileges may get revoked quickly.
Stephen Gandel is a Bloomberg Opinion columnist covering banking and equity markets. He was previously a deputy digital editor for Fortune and an economics blogger at Time. He has also covered finance and the housing market.