Modi's Great Road Trip Hits a Debt Pothole
(Bloomberg Opinion) -- Thousands of people die on India's notorious roads every year, and the number is rising. A multibillion-dollar plan to extend and improve the highway network promises to save lives. Unfortunately, companies behind the wheel may be guilty of some reckless financial driving.
Fatalities caused by potholes jumped 50 percent last year to almost 3,600, with a further 4,250 deaths on or around roads under construction, according to government figures cited by the Times of India. Poorly designed and maintained roads are often blamed for India's accident rate, along with subpar driving skills and deficient vehicle maintenance.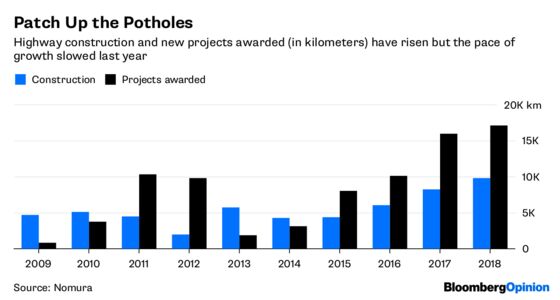 Prime Minister Narendra Modi has grand plans to build more than 80,000 kilometers of roads by 2022. Almost 10,000 kilometers were added in the fiscal year ended in March, and contracts for a further 17,000 kilometers were awarded. Modi's program includes the Bharatmala project that will connect business centers via a 35,000-kilometer network. Investment will surpass 5 trillion rupees ($73 billion), with New Delhi planning to tap private investors for more than half that amount.
Earlier this year, however, the government reined in its ambitious targets. Even ahead of an election year — which would usually guarantee a high level of infrastructure spending to keep the economy humming and voters happy — investors haven't bought into the construction frenzy. Stocks of companies that have been awarded contracts are down as much as 30 percent this year.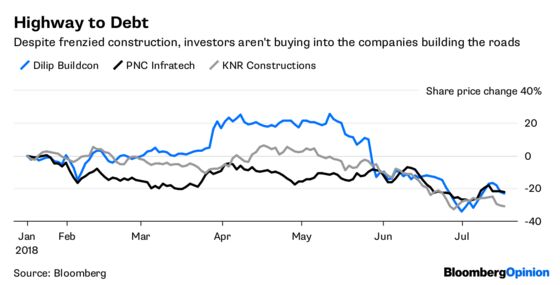 Part of the problem has been the sheer cost and speed of execution. Modi's government is building around 22 kilometers of roads a day. That's more than its predecessors but still only half of its own target. The pace of construction has fed concerns that India will repeat the experience of previous infrastructure binges, where loans were doled out liberally to builders, leading to hard-up borrowers, a banking system plagued with bad assets, and unfinished roads.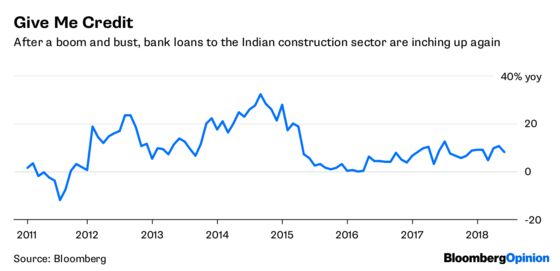 Seeking to avoid those pitfalls, Modi's administration has adopted alternative financing methods. One is the hybrid annuity model, or HAM. This combines features of two contracting arrangements: engineering, procurement and construction, or EPC, and build-operate-transfer, or BOT. Under HAM, the government funds about 40 percent of the project cost in five installments. The company winning the bid funds the rest through a combination of equity and debt.
Once the project is finished, the government-run highway authority collects tolls and pays down the 60 percent balance in the form of half-yearly annuities at an interest rate of about 10 percent. This way of financing effectively splits the risk between the government and its private contractors.
The economics seemed to work. Take a project worth 10 trillion rupees, for instance. If the government funds 40 percent, the company building the highway puts in 12 percent, or 1.2 trillion rupees, and takes out a loan for the remainder. That's about half of what the contractor would have to invest in a BOT project, where financing and other risks must also be borne, according to Care Ratings Ltd. The internal rate of return on the equity portion of a HAM project could be as much as 20 percent, Care estimates.
The trouble is that companies that weren't in the best position to handle the debt have been among the most aggressive. Late last year, of the 55 billion rupees of incomplete projects, about four-fifths were backed by financially weak companies. This year, of 104 projects awarded under the annuity model, 56 are facing financial closure issues from banks, according to analysts at Nomura Holdings Inc. They noted that companies with weak balance sheets were struggling. 
The situation doesn't look like it will improve soon. The cost of capital in India has risen sharply, and bank financing is increasingly restricted. Nervous lenders are looking for guarantees from road builders. Mumbai-listed Dilip Buildcon Ltd., a small company that's won several HAM contracts, used up its entire working capital last fiscal year. Its debt-to-Ebitda ratio has ticked up alongside, but it boasts margins of 18 percent, the highest in the industry.  The company is on the hook for at least six highway projects on the HAM model — that means a significant amount of equity and debt that still needs to be put to work.
That problem looks all too familiar. In apparent recognition of this, a contract awarded this week for India's longest highway resorted to the EPC model, where the government bears all the risk.
Having started with a roar of acceleration, India's road-building program increasingly looks like it's going the way of previous infrastructure initiatives. Only 2,345 kilometers of roads were completed in the first three months of the fiscal year, against an annual target of 16,418 kilometers, a roads and highway ministry document shows. Yet the debt on companies' balance sheets continues to rise along with interest rates, leaving them open to as much as 2 trillion rupees of refinancing needs.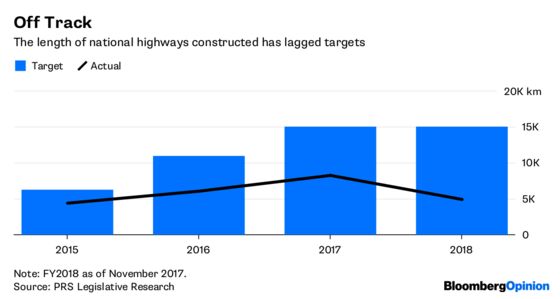 Much like emperors past who built the likes of the Grand Trunk Road, a solution for Modi could be to take everything into New Delhi's hands and steer away from the precarious balance sheets of India Inc. The alternative may be more more lives lost and fewer roads built.
This column does not necessarily reflect the opinion of the editorial board or Bloomberg LP and its owners.
Anjani Trivedi is a Bloomberg Opinion columnist covering industrial companies in Asia. She previously worked for the Wall Street Journal.