Mitsubishi UFJ Hopes Australia Can Break the Growth Trap
(Bloomberg Opinion) -- What could Mitsubishi UFJ Financial Group Inc. possibly want with Commonwealth Bank of Australia's fund-management arm?
MUFG is paying A$4.13 billion ($2.9 billion) in cash for Colonial First State Global Asset Management, or CFSGAM, the biggest deal it's done since the purchase of Bank of Ayudhya Pcl in 2013.
The obvious explanation to reach for when corporate Japan makes a splashy overseas acquisition is that it's all about fleeing a shrinking and aging domestic market, avoiding the Bank of Japan's negative interest rates, yada yada yada.
That doesn't quite make sense in this case. MUFG's core business is pretty lackluster, with returns on equity of 6.3 percent last year – but CFSGAM looks to be, if anything, worse. Net profit after tax at the Australian manager was A$236 million in 2018, according to Commonwealth Bank's announcement Wednesday, amounting to a spare 0.14 percent of the unit's average A$216 billion assets under management. That compares with a 0.33 percent return on assets at MUFG.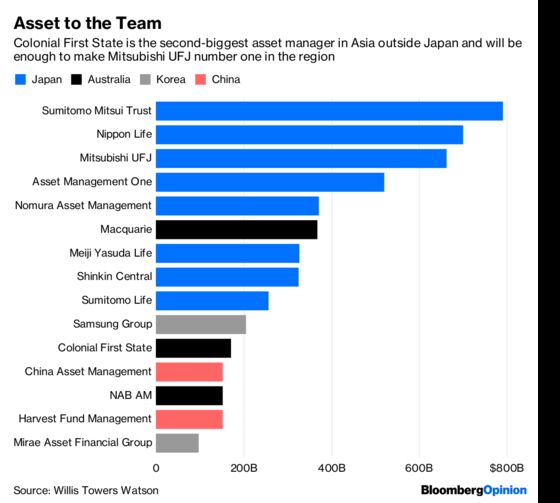 If the motivation is chasing overseas growth to offset a stolidly unexciting domestic Japanese market, too, CFSGAM is an odd way to go about it. Fund-management income at the unit has essentially stood still for a decade, even as assets under management have grown by about half. New investors aren't exactly beating down the door: Net outflows in 2018 came to A$25.9 billion.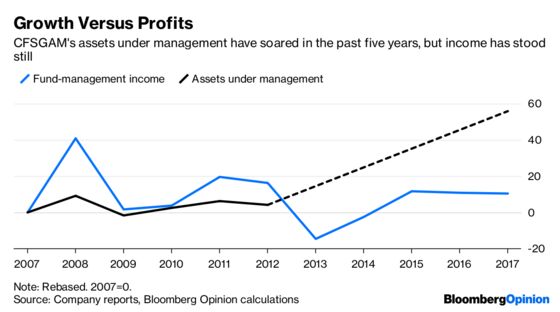 Still, headwinds at home will be occupying minds in Tokyo. The core businesses of Japan's large banks have stagnated for a decade, with most of the improvement in net income in the early years of this decade coming from selling off their bond holdings. Latterly they've been doing the same thing with their cross-shareholdings in domestic corporate customers, a legacy of the old keiretsu system – but that revenue stream, too, could look markedly less attractive if the stock market tanks, so there's a need for some new tricks to juice earnings.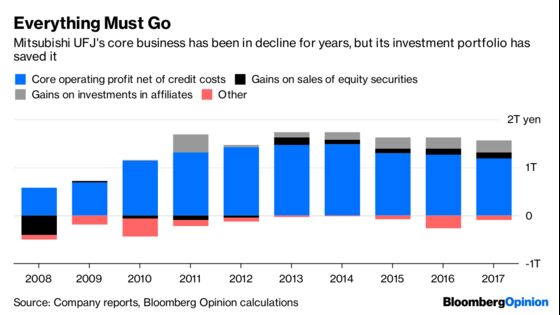 And CFSGAM has managed to deliver for its customers over the years, even if its shareholder, Commonwealth Bank, saw relatively little of the benefit. Almost 90 percent of its assets have outperformed their benchmarks on a rolling five-year basis since 2009, according to a MUFG presentation on the deal. The manager's focus on specialized areas such as infrastructure and emerging Asia also help to rebalance the acquirer's business away from plain-vanilla active management at a time when the market share of such strategies is being squeezed.
There's also the salivating excitement that many Asian asset managers feel when they look at Australia's fund-management market, thanks to superannuation, the system whereby companies must pay an extra 9.5 percent of their employees' headline income into retirement-savings funds. As a result, Australia's pension pool is the world's fourth-largest after those in the U.S., the U.K., and Japan, standing at almost $2 trillion. It's also growing at a faster rate, giving MUFG access to a pension market that will be about half the size of its domestic one by 2021.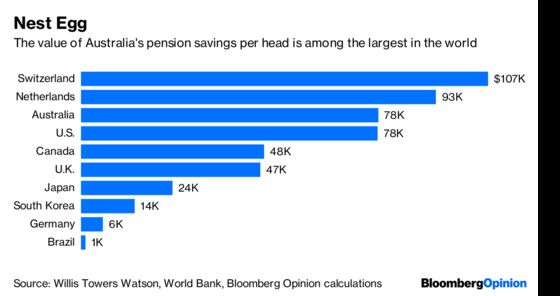 CFSGAM hasn't produced particularly exciting returns for Commonwealth Bank, but that may well have been the price of eking out the rapid growth in assets under management it's achieved in recent years. And for a Japanese owner hoping to crack open Australia's lucrative fund-management market and pick up some expertise to benefit existing clients, CFSGAM seems ripe with untapped opportunities. The costs of low net margins and sluggish income growth may now lie in its past. The benefits are all in the future.
This column does not necessarily reflect the opinion of the editorial board or Bloomberg LP and its owners.
David Fickling is a Bloomberg Opinion columnist covering commodities, as well as industrial and consumer companies. He has been a reporter for Bloomberg News, Dow Jones, the Wall Street Journal, the Financial Times and the Guardian.