Democrats Can Claim Victory on Health Care
(Bloomberg Opinion) -- Democrats did their utmost to make the 2018 U.S. midterm elections about health care, with an assist from Republican efforts to dismantle the increasingly popular Affordable Care Act. They appear to have succeeded, at least in part.
Intense focus on Republican efforts to erode the law's protections for people with pre-existing conditions helped propel Democrats to a majority in the House of Representatives for the first time since 2010, if not control of the Senate. Even if it wasn't quite a blue wave, this election has arguably shifted the country's health-care debate and reality in a way that will have a lasting impact. A GOP-led repeal of Obamacare is off the table, quite possibly for good. Democrats can also cheer another likely result: the expansion of Medicaid coverage to more low-income Americans. 
The message didn't always get through. Health-care arguments weren't enough for some Democrats in Senate races, particularly Claire McCaskill in Missouri. But things were rather less ambiguous in House match-ups. 
If current results hold, Democrats are likely to flip more than 20 seats where the then-incumbent GOP representative voted to repeal the ACA last year.These seats will help give Democrats control of the chamber.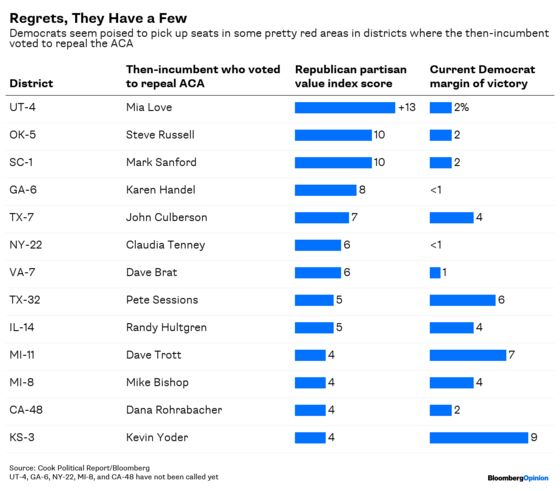 For a number of House Republicans who voted to repeal the law and still held on to their seat, the margin of victory was thin enough that they will likely tread carefully around the issue going forward. 
It's not clear how much House Democrats will be able do to bolster the the expanded individual insurance market created by the ACA. Any serious attempts may run into Senate opposition or a veto by President Donald Trump. But the market appears to be stabilizing on its own, and being free from the threat of repeal for at least two years can only help. 
The GOP is going to continue to be vulnerable on this issue. Even as a Republican-backed legal challenge to the ACA moves forward in Texas, the party doesn't have a coherent health-care plan of its own, and Americans are only going to get more used to Obamacare's consumer protections over time. Retaining the law is likely to be the starting point of debate going forward, which is an enormous change from a decade of full-throated opposition from Republicans, and one that benefits Democrats. 
The biggest health-care wins of the night are centered on Medicaid. All three of the deeply red states that had ballot initiatives on expanding the program via the ACA voted to do so. Elsewhere, Wisconsin and Kansas elected Democratic governors that will likely push for full Medicaid expansion, and Maine replaced a Republican governor who is illegally refusing to implement a Medicaid expansion its citizens voted for with a Democrat who won't do that. 
All in all, health-care consultancy Avalere estimates that more than 600,000 low-income Americans could gain insurance coverage as a result. If Democrat Stacey Abrams wins the gubernatorial race in Georgia, that number could more than double (as of Wednesday morning, the race was too early to call, but she appeared to be poised to lose).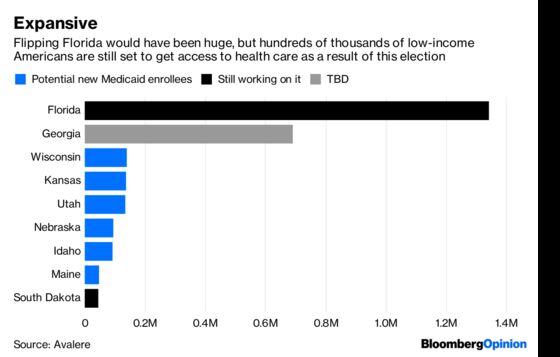 In addition to the human benefit of hundreds of thousands of particularly vulnerable Americans getting health coverage, the strides made in expanding Medicaid coverage will provide a political boost for Democrats. Coverage is difficult to roll back once it's in place, which should be a lasting electoral help in new expansion states, add will add to the pressure in holdout states. Medicaid expansion will also likely improve the risk pool in the individual market, adding to the growing stability of the other side of Obamacare.
The midterms may not have been everything Democrats hoped for. But the health-care shifts that will result are likely to be enduring. 
This column does not necessarily reflect the opinion of the editorial board or Bloomberg LP and its owners.
Max Nisen is a Bloomberg Opinion columnist covering biotech, pharma and health care. He previously wrote about management and corporate strategy for Quartz and Business Insider.