Microsoft Spending Heralds New Era of Capex Kings
(Bloomberg Opinion) -- You wouldn't imagine software to be a capital-intensive business.
Massive spending on equipment used to be the domain of hardware companies, driven by their need for factories to churn out chips and gadgets.
Microsoft Corp.'s transition to cloud services has turned that notion on its head. It's still a software company – the More Personal Computing Division is the largest by revenue – but its cloud business is growing quicker. That requires ever more storage and centralized computing capacity. As a result, spending on equipment will continue to increase this fiscal year, albeit it a slower pace, CFO Amy Hood told Bloomberg's Dina Bass this week.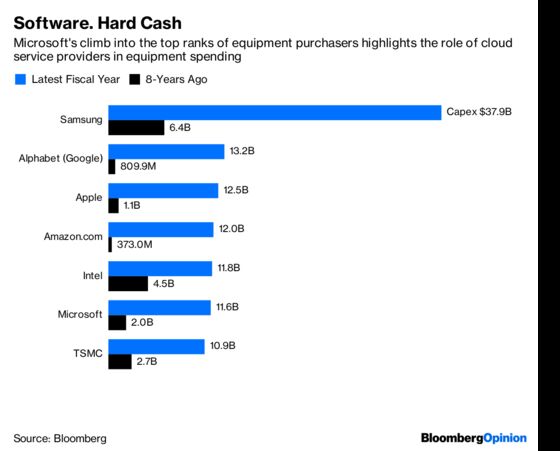 Eight years ago, the top five spenders in the tech space were famous names in hardware: Samsung Electronics Co., Intel Corp., Panasonic Corp., HP Inc. and Sony Corp.
Today Samsung stays atop that list, Intel has fallen to number six and the rest have dropped out.
Replacing them are Alphabet Inc., Apple Inc., Amazon.com Inc. and Microsoft, which is now neck-and-neck with Intel on spending. The software side of that Wintel duo is likely a major customer of the latter.
Apart from Samsung, only two pure hardware companies – Intel and Taiwan Semiconductor Manufacturing Co. – remain among the top echelon of equipment buyers. 
All this makes server farms the new fabs, and cloud-service providers modern-day capex kings.
Apple, meanwhile, is a mixed bag. It's still a hardware company, yet it outsources manufacturing to a handful of Asian suppliers, and buys equipment for those product assemblers to use. It also deploys thousands of servers around the world to store and deliver content, with more to come as it expands its video offering.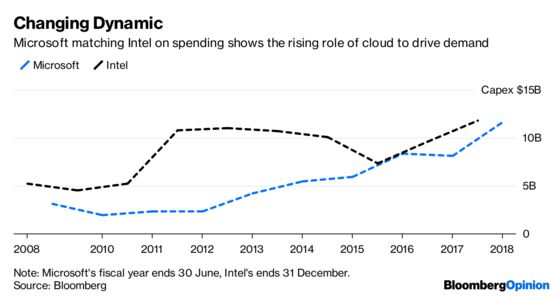 For years, economists and analysts looked at manufacturers as a guide to capital spending. With data being at the forefront, expect cloud-services providers to throw their money around.
This column does not necessarily reflect the opinion of the editorial board or Bloomberg LP and its owners.
Tim Culpan is a Bloomberg Opinion columnist covering technology. He previously covered technology for Bloomberg News.