Menthol Ban Would Be More Than a Drag for Big Tobacco
(Bloomberg Opinion) -- It's more than a drag for big tobacco. A report that U.S. regulators may ban menthol cigarettes was enough to send British American Tobacco Plc shares tumbling on Monday, erasing about $10 billion of market value.
That's understandable: The maker of Newports and Camels would be the most exposed to such a ban. About a quarter of BAT's profit comes from U.S. menthol products, compared with 20 percent at Altria Group Inc., and 15 percent of Imperial Brands Plc, according to Jefferies analysts. BAT's net income is expected to be about 6.7 billion pounds ($8.6 billion) this year, according to Bloomberg data.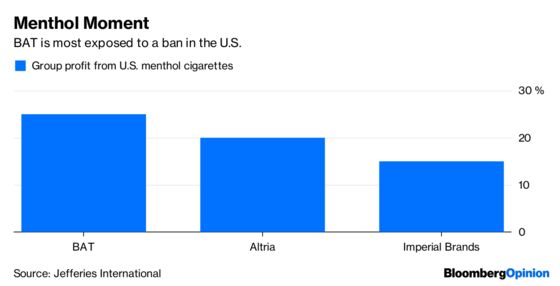 That reaction looks extreme given there is no certainty that a ban will be implemented, and, if one is, how quickly it would be enforced. Every day of delay is a help for the big tobacco companies as they try to migrate customers to their other tobacco brands or alternatives like vapes and heated tobacco. The industry is still profitable and generates reliably big dividends for shareholders.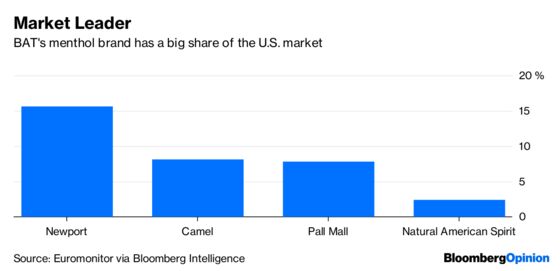 But the fug surrounding the industry's long-term future is thickening. In theory, companies were trying to manage the steady decline of their traditional cigarette businesses and use the cash flow to develop faster-growing alternative products like vapes. A menthol ban would inflict additional damage on the traditional business just as demand for the new products appears to be more volatile than expected.
BAT warned last month that revenue from so-called next-generation products would be 10 percent less than the 1 billion pounds it had previously anticipated, primarily due to a slow-down in Japanese demand for tobacco-heating devices. Philip Morris International Inc. pointed to a similar trend in April.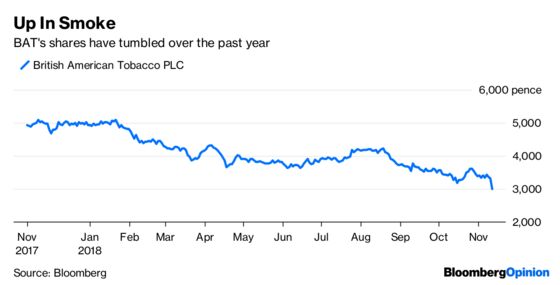 There's also the threat of U.S. Food and Drug Administration restrictions on some electronic cigarettes, as well as the growth of the legalized cannabis industry.
BAT shares have fallen almost 40 percent over the past year, under-performing its big tobacco rivals. Even if a menthol ban would be a big blow, there might just be room for one last gasp in the meantime.
This column does not necessarily reflect the opinion of the editorial board or Bloomberg LP and its owners.
Andrea Felsted is a Bloomberg Opinion columnist covering the consumer and retail industries. She previously worked at the Financial Times.