The Ghost of Martin Shkreli Still Haunts Drug Prices
(Bloomberg Opinion) -- It's Shkreli redux.
The Financial Times reported Tuesday that a small Missouri drugmaker recently raised the price of a 60-year-old antibiotic by more than 400 percent, in a move reminiscent of hedge-fund bad boy Martin Shkreli. When Shkreli jacked up the price of a decades-old, life-saving medicine, he infamously gloated about it. In the latest case, Nostrum Laboratories CEO Nirmal Mulye didn't exactly gloat, but he did offer a full-throated defense of his actions, telling the FT that there is a "moral requirement to make money where you can … to sell the product for the highest price." 
The price hike is egregious, and Mulye's comments are tone-deaf. But the most disturbing thing about this incident is that it's perfectly legal, it happens all the time and, sadly, it's not likely to stop any time soon. In short, it's a reminder of how little progress has been made on drug pricing.
Here's more: An analysis from RX Savings Solutions, which makes software that helps clients (generally employers and health plans) lower drug prices, found six triple-digit price increases on medicines from Aug. 30 to Sept. 7. Among these, the price of a generic version of a nearly 20-year-old drug to treat leg cramps jumped by 435 percent. 
This is all in spite of President Donald Trump's drug-pricing plan, which was a response to growing public outrage. There's been modest progress — the administration is working to make it easier for private Medicare plans to negotiate some drug prices, for example. And in an interview with Bloomberg News Wednesday, Health and Human Services Secretary Alex Azar said the administration is looking to make "disruptive" changes to U.S. drug pricing. But halting this particular kind of price gouging is extremely difficult, and there's little that's been revealed in the plan so far that is likely to curb such behavior.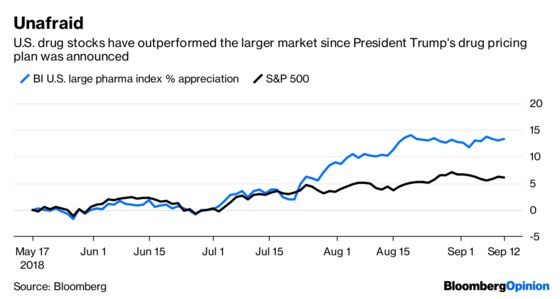 Another Trump tactic — shaming pharma firms for price hikes on Twitter — has made a lot of noise but will have little lasting impact. Several big drugmakers promised to delay or roll back price increases in the aftermath of the President's social-media crusade over the summer. But these moves are cosmetic or temporary, and won't really impact drug spending. In fact, the industry managed to insulate itself from public criticism pretty cheaply. Meanwhile, lower-profile abuse persists, and pharma as a whole continues to profit handsomely from years of aggressive price increases. 
The Food and Drug Administration has taken more concrete action. It's speeding up the generic approval process, with an emphasis on bringing competition to market for price-hike prone medicines. But at the end of the day, the FDA is relying on private companies to do the work of actually getting prices down. There's an appeal to letting the market clean up its own mess. But the drug market isn't well functioning, and the FDA's process is time-consuming and uncertain. The first competitor to hit a market has every incentive to ape the price of the original medicine, no matter how abusive. 
This isn't an isolated incident, and other operators are smarter and enabled by a lack of transparency and loose regulation. It's past time for the sector to make a better effort at self-policing, and for policymakers to find better ways of targeting this specific type of abuse. 
This column does not necessarily reflect the opinion of the editorial board or Bloomberg LP and its owners.
Max Nisen is a Bloomberg Opinion columnist covering biotech, pharma and health care. He previously wrote about management and corporate strategy for Quartz and Business Insider.