M&S Is Stuck on a Long Boring Slog to Recovery
(Bloomberg Opinion) -- Marks and Spencer Group Plc's chief executive officer, Steve Rowe, said on Wednesday he was judging the retailer according to its progress through a radical restructuring as much by improvement in profits.
That's a good thing, because its half-year performance was as mixed as its clothing offering: a sea of typically frumpy cardigans punctuated by outstandingly on-trend dresses.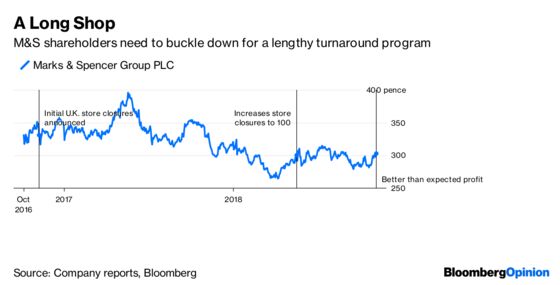 Underlying pre-tax profit came in at a better-than-expected 223.5 million pounds ($294.4 million), helped by cost-cutting. But sales continued to be under pressure. This was particularly notable in the food division. It was once the engine of growth, but it's struggling under serious competition from the big British supermarkets and the German discounters, all of whom are investing in their most upmarket ranges.
Rowe has warned that the company is not expecting much improvement in sales, and that underlines just how much work famed turnaround specialist Archie Norman, who is now chairman, has to do. The deterioration in the business means he has little choice but to stick to his strategy.
He must continue to tackle the company's Victorian pipework – from its ageing store estate to its supply chain – all well getting its clothing styles and availability right, while making food more appealing to families. These are tall orders.
After the Sunday Times reported this week that M&S had once considered separating clothing from food, today's disappointment might generate calls for the board to reconsider a split. But a break-up is not a fast way to add a bit of magic and sparkle, as separating the divisions wouldn't generate significant value.
M&S doesn't disclose operating profit for either. But, Whitman Howard analyst Tony Shiret has estimated operating margins when Rowe arrived in 2016. Rough calculations using these suggests 2018 earnings before interest and tax of 337 million pounds for clothing, and 352 million pounds for food.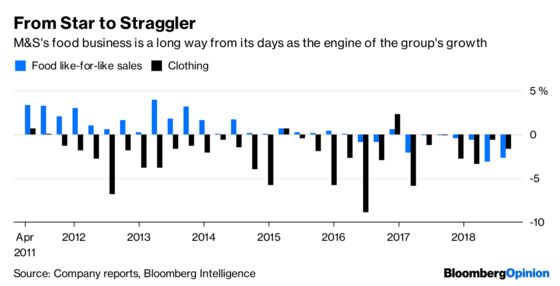 Putting the food earnings on the enterprise value to Ebit multiple of J Sainsbury Plc, and non-food somewhere between those of Next Plc and Superdry Plc, gives a combined enterprise value for the two M&S divisions of about 6.6 billion pounds. Take off net debt of 1.78 billion pounds, and the equity value is around the group's current market capitalization of 4.8 billion pounds. Not much of a pickup for investors.  
True, there is value to be had from M&S's international business, but this could be swamped by the costs of a split. And though the pension fund is in a healthy surplus, it would have to be allocated between the two divisions. These issues further dim the allure of a break-up.
An outright sale of the whole group might be another option. After all, that's what Norman did in 1999, when he got Walmart Inc. to buy Asda.
But even here, there are difficulties. 
Sainsbury would have been the logical partner. But it is now buying Asda. Even if that 7 billion-pound deal were to fall apart because of competition constraints, Sainsbury has now built its own non-food business, partly through the acquisition of Argos two years ago. The rationale for joining forces with M&S is much diminished than it had been.
Amazon.com Inc. could be a potential acquirer, as M&S would bolster its position in both clothing and food. But this behemoth is often touted as a solution to retailers' ills, and it may never appear. Meanwhile, a private equity buyer would have to deal with the debt and pension.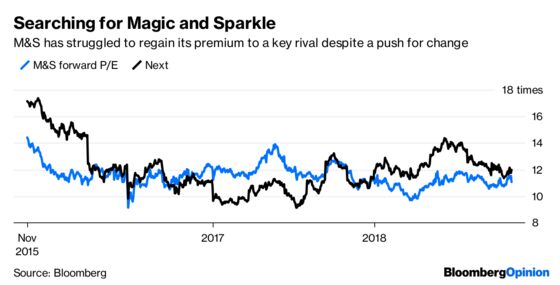 So it looks like, for the time being at least, Norman and Rowe have little choice but to grind out their turnaround plan, attempting to lift sales, address the many legacy issues and cut the company's bloated cost base.
Given Norman's track record, it would be brave to bet against him. But he has a monumental task to revive the high street stalwart – or even get it to the point where it might attract a potential bidder.
This column does not necessarily reflect the opinion of the editorial board or Bloomberg LP and its owners.
Andrea Felsted is a Bloomberg Opinion columnist covering the consumer and retail industries. She previously worked at the Financial Times.