LVMH Calls Last Orders at the Global Luxury Party
(Bloomberg Opinion) -- The music's stopped but luxury shoppers are still dancing.
LVMH late Tuesday reported better than expected organic sales growth in the key fashion and leather goods category in the three months to Sept. 30. Group organic sales rose 10 percent, in line with expectations.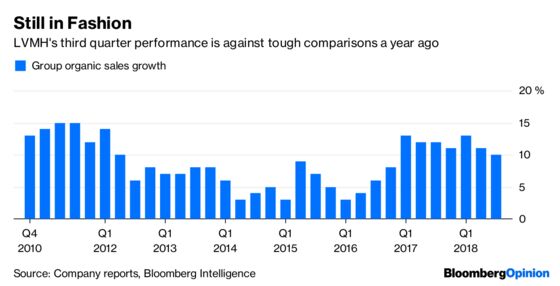 It may seem odd that the shares fell as much as 5.2 percent on Wednesday. But investors are right to be concerned that buyers of bling – particularly in China – can't maintain their recent frenzied pace. Luxury valuations have come under pressure recently amid fears that trade tensions between the U.S. and China will take their toll on consumer confidence.
This has been exacerbated by a slump in some stock markets and social media reports that China is cracking down on travelers returning home with suitcases full of designer clothes and expensive cosmetics.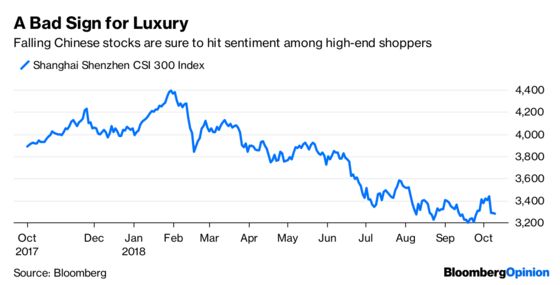 But even in this environment, LVMH should be a relatively safe haven. The company doesn't specifically mention China in its third quarter report, apart from saying that sales of wines and spirits in the country grew rapidly, and travel retail outlets in Hong Kong and Macau performed well. It also said all geographic areas made good progress.
But as the nation's consumers account for about a third of global luxury sales, then they must have been snapping up LVMH handbags and Make Up For Ever foundations.
After a lull in 2015 and 2016, Chinese spending roared ahead, making up for lost time. But the danger is that rather than gradually drifting down, the country's luxury market is headed for a hard landing.
As Bloomberg News has noted, so far the signs are mixed. Macau casinos enjoyed a strong Golden Week holiday, often a good sign for broader top end sales. But European luxury car makers Jaguar Land Rover, BMW AG and Daimler AG have reported sharp declines in Chinese demand.
There are still good reasons for caution. Luxury shoppers are particularly sensitive to global stock gyrations, and there's a risk that the boost to U.S. high-end names had from last year's tax cuts will be repeated.
LVMH shares are down about 11 percent since the end of August. Their drop on Wednesday is understandable and suggests investors are rightly focusing on the outlook. A Morgan Stanley downgrade of the entire luxury sector worsened their performance.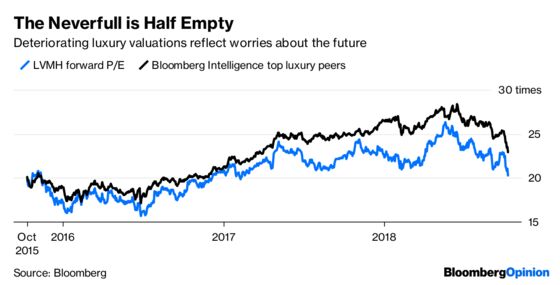 They trade on a forward price earnings ratio of just over 20 times, below the 23 times for the Bloomberg Intelligence top luxury peer group.
That discount looks too steep. LVMH has a diversified product portfolio and geographic reach. It could even take advantage of its scale and strong balance sheet to snap up weaker rivals if a Chinese hard landing does materialize.
That's a decent place to be, even when the party's in its last hazy hours.
This column does not necessarily reflect the opinion of the editorial board or Bloomberg LP and its owners.
Andrea Felsted is a Bloomberg Opinion columnist covering the consumer and retail industries. She previously worked at the Financial Times.