Lotte Shopping Needed a Rocket in China
(Bloomberg Opinion) -- Lotte Shopping Co. is calling closing time on its China adventure. Not a moment too soon.
On Monday, the South Korean company confirmed a report that it was looking to sell some of its five department stores in the country, two months after offloading most of its 99 Chinese supermarkets. A sale would accelerate the withdrawal of parent Lotte Group from the world's second-largest economy.
The retreat shouldn't be surprising. The retailer's sales have been hammered in China after Lotte Group offered its land to the Korean government to house a U.S. anti-missile defense system, enraging Beijing. Consumer boycotts and forced closure of Lotte outlets (ostensibly for fire-safety violations) followed, leading to operating losses for the company's local operations.
But the reality is that Lotte Shopping's sales were weak before it became a target.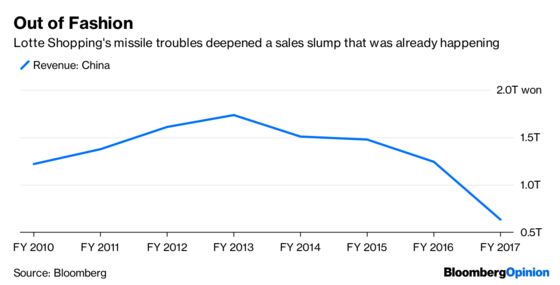 Lotte Shopping bought its way into China rather than building from the ground up, acquiring a stake in the CTA Makro discount chain from its Dutch owner in 2008 and adding supermarket and hypermarket operator Times Ltd. the following year. As of the first quarter, Lotte had 110 of these outlets in China. 
The trouble is, those supermarkets and hypermarkets were largely outside residential areas where foot traffic is higher, according to Bloomberg Intelligence analyst Catherine Lim. In the first quarter, Lotte Shopping's 110 stores posted a 94.3 percent slump in sales to 13 billion won ($12 million).
By June, the Korean company had offloaded the bulk of its hypermarkets to the owner of Wumart Stores Inc., one of the country's largest supermarket chains, having hired Goldman Sachs Group Inc. to find buyers.
The department stores now on the block have fared better than Lotte's hypermarkets because they sell hip Korean clothes and make-up, but even here sales have declined in recent years. The segment recorded a 16 billion-won loss in the first quarter, the same as a year earlier.
Lotte's stores have been slow to move into e-commerce, where retail growth is highest, and have fared poorly against competitors such as Intime Retail Group Co., which Alibaba Group Holding Ltd. transformed into an offline and online retailer after taking the company private last year.
Retailers in China face a dilemma if they don't go digital, as a recent study by Bain & Co. and Kantar Worldpanel shows: Online sales of fast-moving consumer goods such as toilet paper and shampoo recorded a compound annual growth rate of 38.9 percent between 2012 and 2017, overshadowing paltry gains in big-box retailers like department stores and hypermarkets.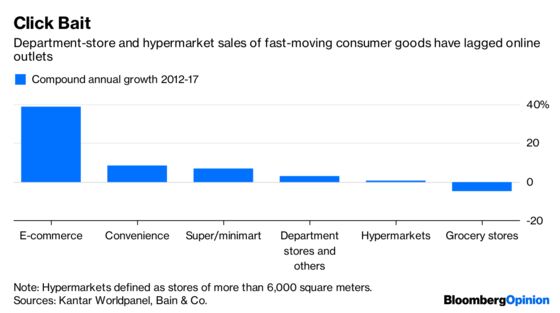 While China's ire was the final nail in the coffin of Lotte Shopping's ambitions, radical change was already needed. The missile furor simply put a rocket into the process.
This column does not necessarily reflect the opinion of the editorial board or Bloomberg LP and its owners.
Nisha Gopalan is a Bloomberg Opinion columnist covering deals and banking. She previously worked for the Wall Street Journal and Dow Jones as an editor and a reporter.