London Traders Are Frogs Boiling in a Brexit Pot
(Bloomberg Opinion) -- The news that Deutsche Bank AG has transferred about half of its business clearing euro-denominated derivatives to Frankfurt from London shouldn't come as a surprise. But it's another reminder that money flows to where it feels most welcome and stays where it's well treated — and post-Brexit London is set to be a more hostile environment for finance.
Even by the standards of international banking, there's a lot at stake in euro clearing. London stole a march on its European competitors at the birth of the common currency project; Brexit has given hope to Frankfurt and Paris and all of the other pretenders to the crown of being Europe's most important financial city.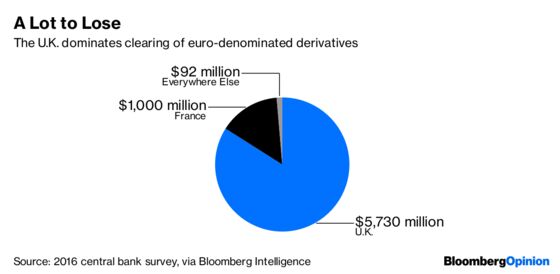 London Stock Exchange Group Plc dominates the clearing of euro-denominated derivatives through its LCH unit. But Deutsche Boerse AG Chief Executive Officer Theo Weimer told Bloomberg Televison in February that he was aiming to capture a 25 percent share of that business: "When an opponent shows weaknesses," he said at a conference in June, "a series of attacking moves may be due."
The clearing business has become a key battleground over how the financial system will be regulated after Brexit. In June last year, Bank of England Governor Mark Carney warned that what he called "fragmentation" of the administrative task could lead to additional costs of 22 billion euros ($26 billion) being "ultimately passed on to European households and businesses."
But last month, a European Parliament committee endorsed a bill that would grant the European Central Bank explicit authority over clearing of euro contracts. It's clear that having a $573 billion business outside of the purview of European Union watchdogs makes Brussels — and Frankfurt — very uncomfortable.
Financial firms are already voting with their employees' feet. Credit Suisse Group AG, for example, is moving 50 of the investment bankers in its global markets trading division to Madrid, Spanish newspaper Vozpopuli reported on Monday.
Deutsche Bank's shift in its clearing business to Frankfurt, reported in the Financial Times, comes with a caveat. "It's the same London-based person who clears a transaction," bank executive Stefan Hoops told the newspaper.
But that's just for now. In a year or two's time, why would it make sense for the German firm to have Jane in London pushing the button to clear a euro derivatives trade rather than Wolfgang in Frankfurt?
The clear and present danger to the City of London's status as Europe's financial center isn't a one-time exodus of thousands of employees all departing at once. It's the jobs that aren't created in London — the positions that instead get filled in Luxembourg or Dublin or Paris. For any investment bank choosing where to hire its next German bund trader, or Italian bond saleswoman, or sovereign wealth fund relationship banker, why would you allocate a desk in London?
The story about frogs and boiling water isn't true. The frog won't hang around until it's cooked; instead, it will attempt to leave the pot as soon as the temperature rises to an uncomfortable level. London isn't there yet; but as the prospect of a no-deal Brexit looks ever more likely, the number of financiers crossing the Channel is likely to increase.
This column does not necessarily reflect the opinion of the editorial board or Bloomberg LP and its owners.
Mark Gilbert is a Bloomberg Opinion columnist covering asset management. He previously was the London bureau chief for Bloomberg News. He is also the author of "Complicit: How Greed and Collusion Made the Credit Crisis Unstoppable."