London's Property Swashbucklers Fall on Hard Times
(Bloomberg Opinion) -- Londoners love to hate Foxtons Group Plc, the upmarket real estate agent frequently associated with gentrification and its yuppyish staff. High fees — the company collects about 3 percent of each sales transaction — haven't helped its image, either.
When British home sales volumes and prices were booming, those fees at least meant the London-focused estate agent generated plenty of profit for investors. Not any more. In the first six months of this year, Foxtons burned through 6 million pounds ($8 million) of cash, as operating expenses exceeded revenues. Because it didn't make any money, the company won't pay an interim dividend, either.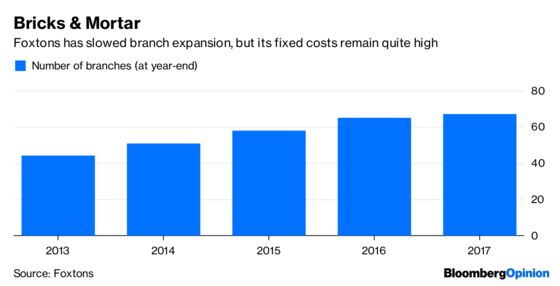 That cut to its payout will help preserve cash, and fortunately Foxtons doesn't have any debt. Still, its boast of having a "strong" balance sheet should come with a couple of caveats. In the absence of sales growth, cost-cutting will need to step up a gear.
To recap, changes to tax and mortgage eligibility rules have made buying a home even more expensive in London. So people aren't moving as much. Foxtons's revenue from selling houses plunged by almost one-quarter year-on-year. With the terms of Britain's departure from the EU still anyone's guess, there's little hope that the market will improve in a hurry.
The Foxtons letting business, which contributes more than half its revenue, isn't growing either, despite a structural increase in the number of Londoners renting homes. So one wonders why Foxtons isn't doing more to moderate spending.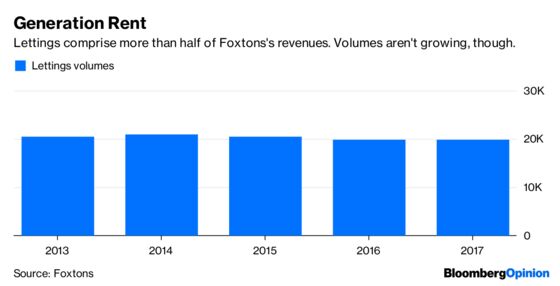 Cutting costs is tricky in a service-oriented businesses where customers and staff can walk to a rival if they feel shortchanged. The company is having to spend on technology too to respond to online property sites. While its branch expansion plan has slowed and headcount fell by more than 10 percent in 2017, the first-half loss suggests management needs to try a bit harder.
Foxtons has almost 140 million pounds in net assets on its balance sheet, which sounds reassuring. But that's only because it hasn't impaired about 120 million pounds of intangible assets, which relate mostly to the no-longer-quite-so-shiny Foxtons brand. That's surprising, considering that the shares have lost almost 90 percent of their value since peaking in 2014. The market capitalization now stands at just 140 million pounds. Yearly free cash flow is about one-third of what it was at the time of the 2013 IPO. 
Furthermore, while Foxtons holds 12 million pounds in cash, from next year accounting rules will force it to include roughly 87 million pounds of operating lease obligations in its net cash/debt calculation.
All of this suggests that Foxtons's swashbuckling days are over. Branches that resemble wine bars and the branded Mini cars that its sales staff whiz about in don't come for free. It will have to learn the value of modesty.
This column does not necessarily reflect the opinion of the editorial board or Bloomberg LP and its owners.
Chris Bryant is a Bloomberg Opinion columnist covering industrial companies. He previously worked for the Financial Times.