Lloyds Needs Schroders Polish for Wealth Push
(Bloomberg Opinion) -- Britain's Lloyds Banking Group Plc and 214-year-old fund manager Schroders Plc are inching closer to starting a joint-venture in wealth management.
Strategically, it makes a lot of sense: Lloyds wants to boost fee income that has dwindled in recent years, and Schroders could do with a bigger pile of assets and an extra distribution channel.
Yet the muted market reaction to Monday's announcement – a 0.7 percent gain for Schroders and a 0.9 percent fall for Lloyds – suggests the short-term gains from the project would be incremental at best. Schroders will make more money from managing more assets, but imagining a significant flow of new business from Lloyds implies a big improvement in the bank's brand value and relationship with customers. It's a long shot.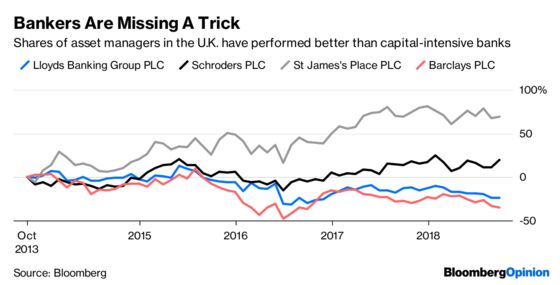 You can see why both firms would be in talks. As is the case with many U.K. banks, margins in Lloyds's traditional lending businesses are being crushed by competition and low interest rates. In response, the bank wants to greatly increase the amount it manages in retirement and investment products. The lender is targeting cumulative growth of 50 billion pounds by the end of 2020, up from an expected 8 billion pounds of growth this year.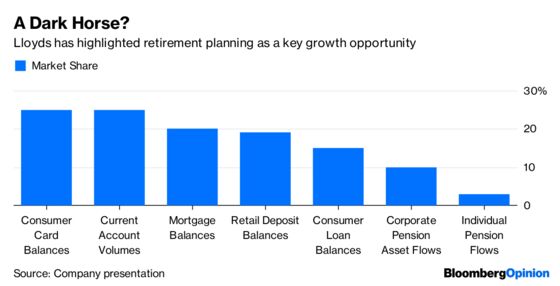 Lloyds has had trouble building its fee-based income on its own. The cross-selling of financial products has become far more difficult since the big payment-protection insurance scandal. British banks have had to set aside some 30 billion pounds to compensate clients who were wrongly sold the product, and also tame their own sales teams. The result has been a persistent drop in non-lending revenue.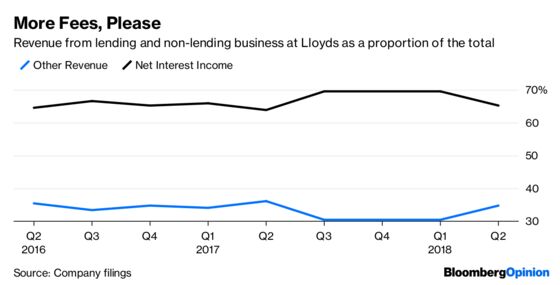 What would Schroders want out of Lloyds? A distribution channel of 1,750 branches, and a 109 billion-pound pot of money that needs to be managed on behalf of the lender's Scottish Widows division. If Schroders can convince Lloyds that it deserves to look after all of it – which is no sure thing – it would increase earnings by 5 to 7 percent, according to UBS analysts. And future access to a flow of elderly savers must be tempting: Some 15 percent of Lloyds customers are over 70.
The catch is whether a new platform jointly run by a top asset manager and a bank would actually woo customers in scale.
Platforms like St. James's Place Plc, which has about 97 billion pounds under management, use a network of financial advisers that benefit from not being tied to any single institution. Lloyds-Schroders would lack that selling point. Pulling in business might also mean putting Schroders' name before Lloyds – some brand dilution or damage could ensue.
A lot of details are still up in the air. But Schroders knows how to run a wealth business, and has made some acquisitions that could create a well-run, tech-savvy platform. Lloyds has access to customers, and has an insurance arm with money to manage. Mashing them together, though, doesn't guarantee a big windfall.
This column does not necessarily reflect the opinion of the editorial board or Bloomberg LP and its owners.
Lionel Laurent is a Bloomberg Opinion columnist covering finance and markets. He previously worked at Reuters and Forbes.
Mark Gilbert is a Bloomberg Opinion columnist covering asset management. He previously was the London bureau chief for Bloomberg News. He is also the author of "Complicit: How Greed and Collusion Made the Credit Crisis Unstoppable."