Lira Develops an Immunity to Turkish Inflation
(Bloomberg Opinion) -- Turkey's inflation rate has hit an unprecedented level, but you'd never know it from looking at the lira. That's because currency traders are focusing on the economic pain to come.
Consumer price gains accelerated to 24.5 percent in September, but what was really worrying was the 46.2 percent increase in producer prices. That's a signal that CPI is headed higher.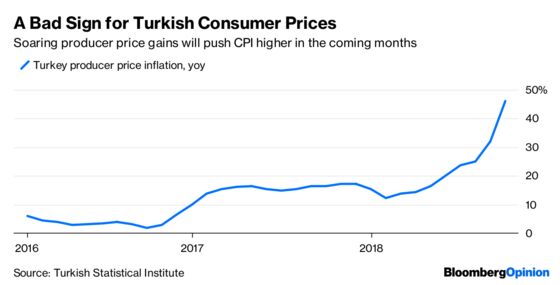 The currency is looking through this. Sure, the lira tumbled nearly 2 percent against the dollar right after the data were published, but recovered so much as to be little changed at one point. It looks like it's getting immune to inflation news. 
Turkey's economy is headed for recession, and this is what seems to be of uppermost importance for the lira. A report on Monday showed the manufacturing purchasing managers' index sank to 42.7 in September. The concern isn't just that the measure is now well below 50, signaling contraction. The speed of the decline is remarkable — the gauge was at 55.7 in January.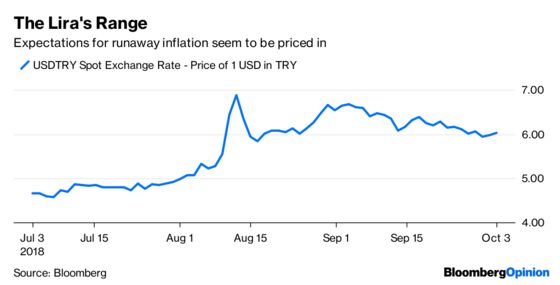 This is, sadly, what's going to solve Turkey's inflation problem. As activity tails off, price growth will peter out. It's also worth noting that the soaring cost of foreign goods will constrain imports, going a long way toward narrowing the country's yawning current account deficit.
It's hard to see that the lira's moves reflects renewed faith in the central bank. Last month officials finally took their price-controlling mandate to heart by raising the one-week repurchase rate 625 basis points to 24 percent, and said they would keep policy tight until inflation "displays a significant improvement."
However, this decision came hours after President Recep Tayyip Erdogan said his patience with the central bank and higher rates was limited. The debate over the independence of the central bank is far from over. 
And anyway, the central bank can only do so much to remedy this situation. Big rate increases lose their impact at this point — though Argentina raised its key rate to 60 percent from 45 percent in August, the peso kept falling.
Treasury Minister Berat Albayrak was swift to react to the data, claiming the "current trend will be broken in October." But it is almost impossible to see how this will happen. In addition to the momentum from soaring producer prices, core CPI reached a record 23.7 percent, showing this isn't just a story of energy and food price gains.
The central bank may not have the luxury of waiting for this month's inflation data, due Nov. 5, before responding. The policy benchmark is now 50 basis points below the inflation rate. If officials wants to restore positive real interest rates they will have to act at their next meeting, on Oct. 25 — if not sooner.
The lira has retreated from its terrifying climb above 7.2 to the dollar. But its prospects for recovering much further are severely limited by the damage wrought by runaway inflation — and the economic pain yet to come. 
This column does not necessarily reflect the opinion of the editorial board or Bloomberg LP and its owners.
Marcus Ashworth is a Bloomberg Opinion columnist covering European markets. He spent three decades in the banking industry, most recently as chief markets strategist at Haitong Securities in London.