Depressed by China Stocks? Booze and Drugs Won't Help
(Bloomberg Opinion) -- Drugmakers and alcoholic-drinks companies are traditionally seen as recession-proof stocks that can perform in any market environment. Slump or not, people still need to take care of their health and, perhaps, drown their sorrows.
The problem isn't with these businesses. The country adds more than 4 million new cancer patients every year, ensuring a steady pipeline of demand for pharmaceutical products. Meanwhile, China's love for the fiery baijiu spirit helped make Kweichow Moutai Co. the world's most valuable liquor company.
Blame the taxman instead.
Since their June peak, Moutai and its younger sibling Wuliangye Yibin Co. have lost almost $70 billion of market value. Selling accelerated this month amid speculation that the government may raise taxes on their products. 
Investors are right to be concerned. As Beijing cuts taxes for some companies and the middle class, it's keen to reduce the fiscal pressure by clawing every penny it can from other targets. The Ministry of Finance looks likely to miss its fiscal deficit target, having cut the goal at the beginning of the year for the first time since 2013. Liquor is low-hanging fruit.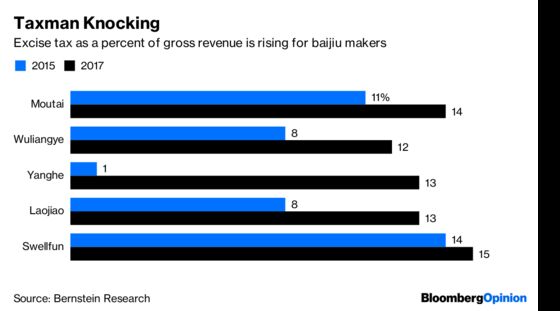 Baijiu makers are already feeling the pressure. Moutai handed out 14 percent of its sales as excise taxes in 2017, versus only 11 percent two years ago, according to data from Bernstein Research analyst Euan McLeish. The government has increased the levy on baijiu four times since 1994, compared with only once for beer.
Drugmakers are facing similar headwinds. China's social security programs are running a deep deficit, and tax collection is a problem. Only 27 percent of firms pay their social security obligations in full. The government expects expenses to rise by 32 percent to 6.5 trillion yuan ($935 billion), only about three-quarters of which are covered by income.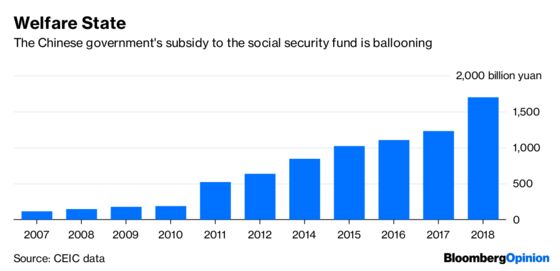 So don't be surprised if Beijing bargains hard on the prices of drugs included in the social healthcare system. Amid public demand for newer drugs to be included in the program, a price war is brewing.
The central government started a pilot program in September covering 33 drugs that requires public hospitals in 11 cities to give at least 60 percent to 70 percent of orders to the lowest bidder. Currently, manufacturing generic drugs has 80 percent to 90 percent gross margins, similar to those for patented medicines. This cash cow will soon expire.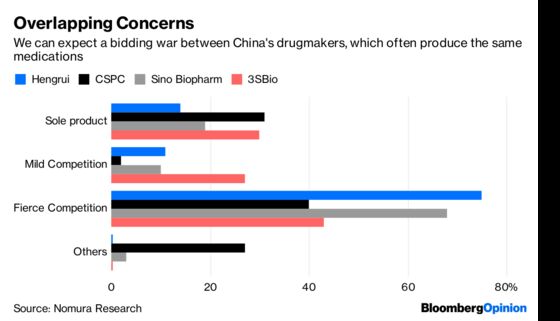 There's also a lot of overlap between investors' favorite pharmaceutical companies, from Shanghai-listed Jiangsu Hengrui Medicine Co. to Hong Kong-traded CSPC Pharmaceutical Group Ltd. Shares of the duo remain up for this year, though gains could evaporate if price competition intensifies.
The hard truth is that there are few places to hide from China's stock-market rout: More than 90 percent of yuan-denominated A shares are in the red this year. Defensive-minded investors considering liquor or drug producers may be better off buying the products than the stocks: At least a bottle of baijiu or a box of painkillers can dull the pain of a miserable year.
This column does not necessarily reflect the opinion of the editorial board or Bloomberg LP and its owners.
Shuli Ren is a Bloomberg Opinion columnist covering Asian markets. She previously wrote on markets for Barron's, following a career as an investment banker, and is a CFA charterholder.