The Cable Cowboy Faces a Fight to Show Who's Boss
(Bloomberg Opinion) -- John Malone's relationship with minority investors faces a test. The cable billionaire should consider dealing his way out of the situation.
At issue is the governance and dividends of Telenet Holding Group NV, the 5 billion-euro ($5.6 billion) Belgian telecoms company in which Malone-controlled Liberty Global Plc holds a majority stake. A row with 3 percent shareholder Lucerne Capital Management LP risks metastasising into a forensic examination of how minorities fare when Malone holds sway.
Liberty's near 60 percent stake in Telenet confers a majority of the board seats and an outsized say in strategy. Fair enough, so long as the company isn't run to the detriment of other shareholders. Lucerne, a hedge fund and longtime minority shareholder, says this red line has been crossed. It argues minorities have suffered because Telenet's cash returns have been rare in the last five years, and there is no recurrent dividend despite the Belgian business's stable cash flow.
One way of assessing whether Lucerne is right is to apply the duck test. Does Telenet look, swim and quack like it is run for Liberty's benefit? 
There is certainly an incentive for Liberty to push for cash conservation. It fully consolidates Telenet's numbers, so the Belgian group's leverage affects its own ability to borrow. The absence of reliable pay-outs deters income investors and arguably weighs on the valuation, in turn lowering the potential cost to Liberty of buying out the minorities. It last tried to do so in 2012.
For its part, Telenet insists that its decision-making considers all shareholders. It says there is no sector norm when it comes to dividends. A 300 million-euro buyback in June and a 600 million-euro special dividend in October are, it argues, evidence of its flexibility toward returning cash. Awkwardly, these moves came after Lucerne began agitating earlier this year. And most European telecommunications companies pay dividends anyway.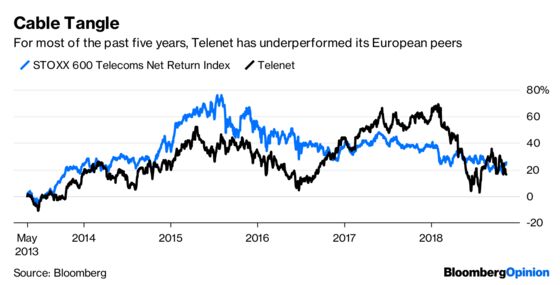 On balance, Telenet flunks the duck test. Whether that reflects a fundamental inability to rein in Liberty's influence could now be subject of a formal investigation. On Monday, Lucerne said it had asked the Enterprise Court of Brussels to appoint an expert to review Telenet's governance.
This may all be saber rattling ahead of an investor day Telenet has scheduled for next month. Maybe a dividend policy will be unveiled then. For now, the Belgian company is spending a lot of time with its lawyers rebutting Lucerne's claims.
There is a way out, however. If Liberty indeed wants to run Telenet for its own benefit, a fresh bid for the minorities could – even at a decent premium to the current share price – practically fund itself. The stock trades at about 43 euros today. Morgan Stanley analysts recently estimated that at their 60.20 euros per share price target, Telenet's 2019 free cashflow to equity yield would be about 8 percent. That would more than likely exceed cost of financing a buyout.
If Liberty is happy to leave Telenet to its own devices, it would do well to remove all appearance of conflicts and cut its stake to less than 50 percent, copying what Daily Mail & General Trust Plc did with its holding in Euromoney Institutional Investor Plc in 2016. DMGT liberated the financial publisher to run its balance sheet for its own benefit, and not as a cushion for DMGT's. Since then, Euromoney shares have comfortably outperformed the FTSE All-Share since.
Certainly, either option looks like it would create more value than a costly and potentially embarrassing fight in the Belgian courts.
This column does not necessarily reflect the opinion of the editorial board or Bloomberg LP and its owners.
Chris Hughes is a Bloomberg Opinion columnist covering deals. He previously worked for Reuters Breakingviews, as well as the Financial Times and the Independent newspaper.