Kors Treads Wisely on Versace-Print Path to Growth
(Bloomberg Opinion) -- Michael Kors Holdings Ltd. is poised to add something glamorous to its closet. The handbag giant is close to acquiring Gianni Versace SpA in a deal that would value the iconic Italian fashion company at around $2 billion, Bloomberg News has reported.
This potential deal fits well with the long-term growth strategy that the company has laid out. It aspires to transform itself into a conglomerate of luxury labels, a mission that began in earnest last year when it snapped up luxe shoe brand Jimmy Choo for about $1.2 billion.
It appears the integration is going well so far. In fact, in the latest quarter, Kors bumped up its full-year earnings guidance based on stronger-than-expected performance at both its namesake label and Jimmy Choo. Its capable management has served as something of an advertisement to brands such as Versace, showing them that joining the company can have a happy ending.  
Investors are apparently not thrilled about the idea of this deal, sending Kors shares down about 7 percent. This skittishness is perhaps understandable, given the debt and risk the parent took on only about a year ago to acquire Jimmy Choo.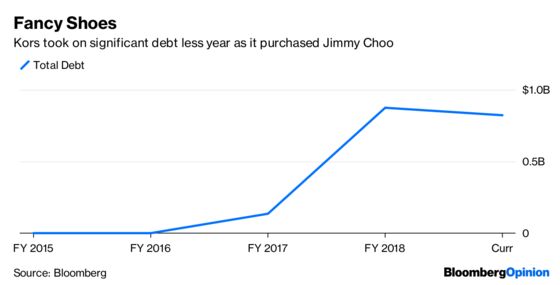 But they should bear in mind that an acquisition of Versace could accomplish some key goals. It will give Kors more exposure to the European market, an important diversification for a company that still relies heavily on the U.S.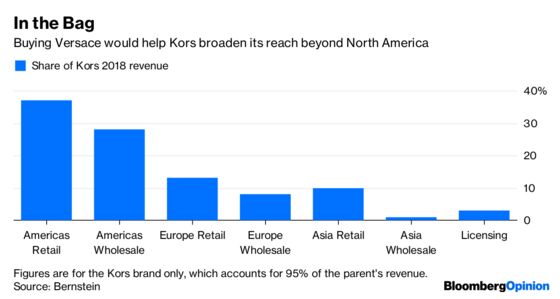 And it allows it to play tactical defense against Tapestry Inc., the corporate parent of Coach and Kate Spade that is also trying to transform itself into a house of brands. Tapestry reportedly looked at acquiring Versace, so this could be a solid demonstration that Kors can beat back multiple suitors for a worthwhile asset — if it lands this deal.  
A purchase would present a huge test for management. For one, it is a significantly bigger fashion beast than Jimmy Choo, which had about $470 million in annual revenue at the time of its acquisition. Versace, according to figures provided by the company to Bloomberg News, had 686 million euros ($809 million) in revenue in 2017. That's a decent size compared to the namesake brand's $4.5 billion in 2018 revenue.
And while the shoemaker is an important brand, its cachet and influence in the fashion world are not nearly as strong and storied as Versace's. The label earned its prestige as a family-controlled business, with Santo Versace serving as chairman and Donatella Versace reigning as its creative lead. Bloomberg News reports that the family will "continue to have a role under any agreement," which makes good sense. It will be critical for Kors to manage that delicate relationship properly. 
We'll need more specifics to determine exactly how transformative this deal could be for both fashion businesses. But we can say this: If Kors is to become a true global luxury powerhouse, it is going to need to keep snaring bigger fish. Adding Versace to its stable would certainly fit that bill.  
This column does not necessarily reflect the opinion of the editorial board or Bloomberg LP and its owners.
Sarah Halzack is a Bloomberg Opinion columnist covering the consumer and retail industries. She was previously a national retail reporter for the Washington Post.