Kier's Sudden Rights Offering Sends a Brexit Warning
(Bloomberg Opinion) -- Ten months after the collapse of government contractor Carillion Plc, one of its peers is holding its shareholders to ransom by asking for a massive cash injection.
The reasons given by Kier Group Plc for the heavily dilutive 264 million-pound ($337 million) rights offering it announced on Friday may be plausible — but the timing raises awkward questions for both the company and its lenders. It's also a warning to all investors in U.K.-focused stocks.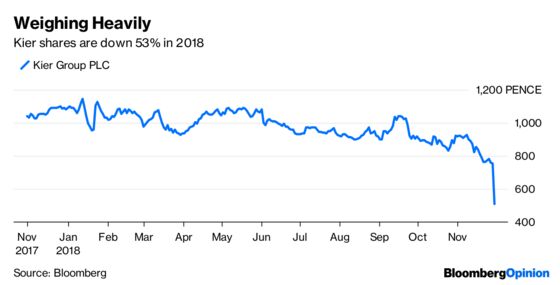 Kier says trading is fine, but blames a change of heart among its lenders in recent weeks. Banks want to reduce or eliminate their exposure to the U.K. construction industry. At the same time, customers are increasingly scrutinizing their suppliers' leverage levels in the wake of Carillion's failure. Meanwhile, the government is also pushing its contractors to pay their suppliers faster, putting pressure on working capital.
The result? Kier needs to cut borrowings before its balance sheet is next assessed on Dec. 31. Its financing model needs to make a dramatic switch from bank financing to equity financing. Cue a rights offering to raise the equivalent of about a third of its market capitalization before the news broke.
A lot of savvy investors saw this coming, and many were shorting the stock. Construction is risky, as Carillion showed back in January, and balance sheets need to be extremely robust. Cutting borrowings makes total sense. But why the hurry to make the transition in the dying days of the financial year?
Kier was lucky to set up a roughly 700 million-pound revolving credit facility just before Carillion issued a profit warning last year. That borrowing line extends to 2022 — but it's not the only source of credit the construction company relies on.
The risk of a bad Brexit has been present throughout 2018. Surely the banks haven't only just woken up to it? But if they appear to be the main villains, Kier isn't blameless either. Relying on U.K. lenders was foolhardy. The company could have acted with more foresight — shoring up its capital base, adjusting its business plan, cutting its dividend and selling assets. Kier was taking action, but it wasn't moving fast enough.
If the company's protestations are right, though, British banks suddenly appear to be taking a very dim view of the country's economy next year. Construction may not be the only sector affected. Leverage may need to come down rapidly for U.K.-focused stocks, and equity investors are going to have to step in.
This column does not necessarily reflect the opinion of the editorial board or Bloomberg LP and its owners.
Chris Hughes is a Bloomberg Opinion columnist covering deals. He previously worked for Reuters Breakingviews, as well as the Financial Times and the Independent newspaper.