Kaisa Shows China's Three Red Lines Are Rubbish
(Bloomberg Opinion) -- The desperate game of survival being played by Chinese real estate developers just got nudged to a whole new level. Shenzhen-based Kaisa Group Holdings Ltd., the second largest high-yield dollar-denominated bond issuer after China Evergrande Group, said it missed payments on wealth management products it guaranteed because of "unprecedented pressure on its liquidity." 
On paper, Kaisa looked great. In June, the developer passed the so-called "three red lines," — the accounting metrics Beijing looks at to decide who gets to borrow. It even managed to issue a 300 million yuan ($46.9 million), 7% coupon bond in the mainland, a remarkable breakthrough for a developer that defaulted in 2015. It's not hard to see why investors loved Kaisa.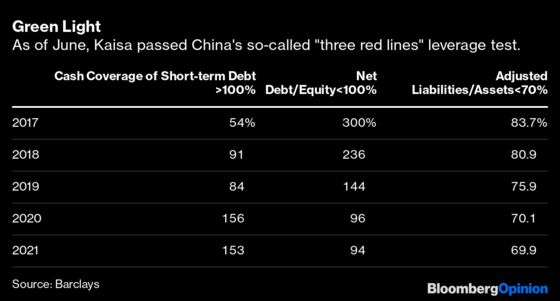 But, as we are finding out, Kaisa may have passed the three red lines because it had shoveled a lot of financing off its books. Kaisa certainly hadn't been forthcoming, telling investors it had no wealth management business, according to an Oct. 19 report on Debtwire. Nor was there a hint of such products in its annual reports. The admission of missed payments is, thus, the most unpleasant of surprises for investors. 
There may be a lot of shadow financing involved. As of June, minority interests accounted for over half of Kaisa's total equity, an indication of how many joint ventures it was involved in and how much private debt it may have guaranteed. Be prepared for more nasty revelations. 
By pushing developers to get on a credit diet since 2018, China only propelled them to go underground, into dark financial corners that Beijing itself is not familiar with. On the books, Kaisa's dependence on bank loans has waned, from 34% in 2019 to only 27% as of June. Offshore investors have become Kaisa's biggest lenders — and are now discovering how far the developer has gone over into the dark side. 
To make matters worse, Kaisa is no exception. In the last few years, developers have been increasingly relying on accounting gimmicks, from the joint venture structure that postpones reporting debt to off-balance-sheet financing vehicles. None of these show up in financial statements. 
When China first formulated the three red lines in August 2020, it was used by bureaucrats to decide which companies get to borrow. But it also served as certificate of financial health. Companies that stayed green were supposed to be safer investments — with cleaner financials and on the government's good side. 
Kaisa proved otherwise. It shows that simplistic official doctrines are rubbish; and that harsh top-down policies only create uglier monsters underground. 
This column does not necessarily reflect the opinion of the editorial board or Bloomberg LP and its owners.
Shuli Ren is a Bloomberg Opinion columnist covering Asian markets. She previously wrote on markets for Barron's, following a career as an investment banker, and is a CFA charterholder.
View
Opinions
From Business And Policy Experts On BloombergQuint