John Lewis Makes a Promise That It Can't Afford
(Bloomberg Opinion) -- John Lewis Partnership Plc, the favorite department store of the British middle classes, prospered after the financial crisis. Now it's being beaten by the turmoil on the U.K. high street.
The company is famous for its slogan of being "never knowingly undersold" — a promise to match the price of any rival. But it's time to ditch that pledge.
The employee-owned retailer, which is also also home to the Waitrose supermarket chain, saw profit almost completely wiped out in the six months to July 28. A significant part of this was caused by the unprecedented discounting on the British high street. It's hard to stick to lofty promises when your rivals are all desperately trying to survive by slashing prices.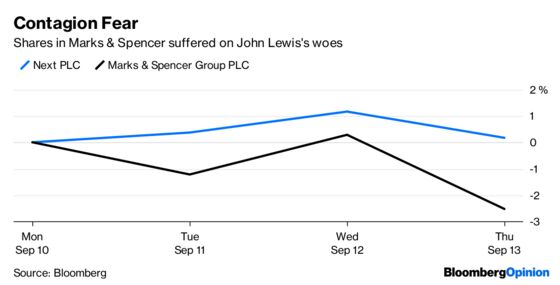 "Never knowingly undersold" has served John Lewis well as a marketing tool. But times have changed. Discounting is the name of the game now in shopping. Ditching the commitment would give John Lewis more freedom to cut its prices where its more useful, rather than being chained to the whims of competitors.
Charlie Mayfield, the company's chairman, said rivals ran twice as many discount extravaganza days in the first half of 2018 as they did in the same period last year, and the price cuts were deeper. That was caused largely by the slumping fortunes of House of Fraser and Debenhams Plc.
Price-matching schemes are already looking old hat in retail. Discount shops tend to prefer stable low prices, rather than bouncing between high prices and promotions. John Lewis is already looking to make its promise less expensive by stocking more products that aren't directly comparable with rivals'. It wants half of its goods to be own-brand or exclusive within a few years.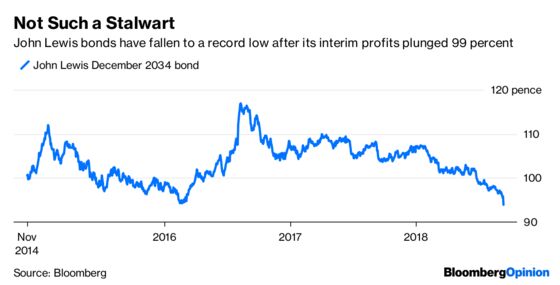 This is tricky to pull off, though. New womenswear ranges have been received well, Mayfield says. But turning private labels into successful brands is extremely difficult, as rival Marks & Spencer Plc has discovered.
While John Lewis expects things to improve in the rest of the year, it's hard to expect much change in the price-slashing by rivals — at least in the short term. House of Fraser was rescued by billionaire Mike Ashley, who has stated his not entirely tongue-in-cheek intention to make it the "Harrods of the high street." But to do so, he'll have to get rid of old stock at knockdown prices.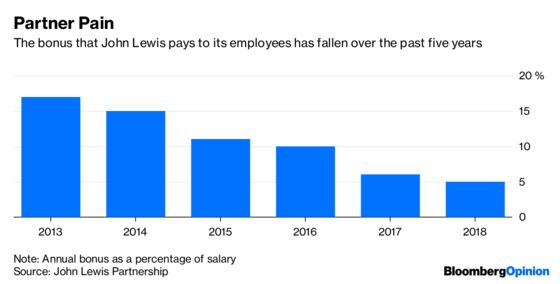 And if Debenhams too keeps cutting prices ahead of Christmas, that means more misery for Mayfield. Even though John Lewis should benefit from fewer rival stores eventually, the immediate outlook is troubling.
Its partner bonus has fallen for each of the past five years, and this year probably won't be any better. That's not good for a company that depends so heavily on the goodwill of its employee owners. If John Lewis really wants to reward them, it needs to get a grip on cost. The promises must end.
This column does not necessarily reflect the opinion of the editorial board or Bloomberg LP and its owners.
Andrea Felsted is a Bloomberg Opinion columnist covering the consumer and retail industries. She previously worked at the Financial Times.